Tom's #Mailbag, June 26, 2020
Have YOUR questions answered by clicking here
Based on questions to the mailbag this week it looks like people are shaking off the COVID blues and getting out and about. We have queries about a broad roadway in northern Champaign County, birdhouses in Meadowbrook Park, graffiti in Champaign, a permanently closed restaurant, lower gas prices, an overabundance of bunnies, possibly offensive street names and the possibility of Cubs game on TV.
Keep staying smart and safe, East Central Illinois. Don't be like Texas.
Voice from the library box
"Library patrons and enthusiasts who use the book return on the northside of the Champaign Public Library main branch are all familiar with the friendly message: 'Thanks for using the library. Please insert materials one at a time.' The male voice sounds eerily similar to that of the one and only Alex Trebek — can you please confirm or deny? On second thought, maybe I don't want to know if the answer is 'no' ... I have always dreamt it is him and if not, my heart will be broken!"
Here's the disappointing news from Champaign Public Library Director Donna Pittman: "Sorry, the voice is not that of Alex Trebek. But people are welcome to believe it is if it makes returning items more enjoyable. The recorded voice is that of a Tech Logic employee, the company we purchased our automated materials handling system from in 2007."
Street name change
"Has there been any interest from the city of Urbana in renaming the Urbana street East Plantation Point? Are there any other street names in C-U with confederate or slavery-related names?"
Urbana Mayor Diane Marlin reports that residents on Plantation Point in Stone Creek subdivision have already begun the process of requesting a street name change. "They are working with the homeowner's association and residents who live on that street. I agree that it should be renamed. Re-naming a street isn't something we take lightly, considering the changes that must be made to maps, agency records, U.S. Post Office records, planning and zoning documents, etc. but it can be done if warranted and if the residents are supportive. My understanding is that streets in Stone Creek were originally named after golf courses."
I did not do an exhaustive search of local street names for others that might have connections to slavery but a few jumped out as possible targets. They may be named for former U.S. presidents who, incidentally, also owned slaves: Washington Street, Jackson Street and Taylor Street are all in Champaign.
And Jefferson Middle School in Champaign is named for Thomas Jefferson, who held hundreds of slaves. And Benjamin Franklin Middle School's namesake reportedly owned two slaves during his lifetime but became an abolitionist later in life.
It's also worth noting that three Champaign elementary schools are named for black men: Barkstall School named for Vernon Barkstall, who headed the Urban League of Champaign County for more than a quarter of a century; Stratton Elementary named for Kenneth Stratton, a teacher and administrator who was the first Black member of the Champaign City Council; and Washington School named for Booker T. Washington, an author, educator and founder of what is now known as he Tuskegee University.
Reproducing like rabbits
"As an early morning exerciser and a gardener, I have noticed an enormous increase in rabbits this year. They're cute but deadly to my plants. The last time we had so many, based on personal observation, was about four years ago. What do the experts say about the waxing and waning of the local rabbit population?"
"The rabbit population can fluctuate from year to year and is affected by the presence of predators, availability of food for the adults, and environmental conditions (including temperature and humidity)," said Samantha Sander, a doctor of veterinary medicine and a clinical Assistant Professor of zoological medicine at the University of Illinois.
"Consistent with the observations of your reader, the 2019 Illinois DNR report on the status of cottontail rabbits shows an increase in rabbit populations based on road-kill index (up 11 percent from 2018). Interestingly, this index has been monitored since 1975 with a general decline in the rabbit population overall.
"While rabbits can prove themselves to be quite a nuisance in our cultivated backyards, they are an important part of our ecosystem and integral to maintaining the health of our natural spaces. On the bright side, chicken wire fences around gardens and selecting plants less appealing to these species can go a long way to being able to enjoy our outdoor spaces while concurrently allowing rabbits and other species to thrive."
She included a link to the the DNR report
I-74 work needed
"I-74 from Tilton to Danville is filled with potholes. With all the work done on I74, when is it Danville's turn to get repaved. It's certainly needed."
Illinois Department of Transportation Region 3 Engineer Kensil Garnett said that the following sections of I-74 in Vermilion County are in the Multi-Year Program (FY2020-FY2025):
— Reconstruction and bridge deck overlays/repairs on I-74 from U.S. 150 west of Danville to the Vermilion River in Danville (5.8 miles) at a programmed cost of $28 million and
— designed overlay with under drains and ramp repairs on I-74 from the Vermilion River in Danville to the Indiana state line (4.58 miles) at a programmed cost of $9.6 million.
"Our operations maintenance forces will continue to perform necessary maintenance activities to keep this stretch of I-74 safe for the traveling public," he said.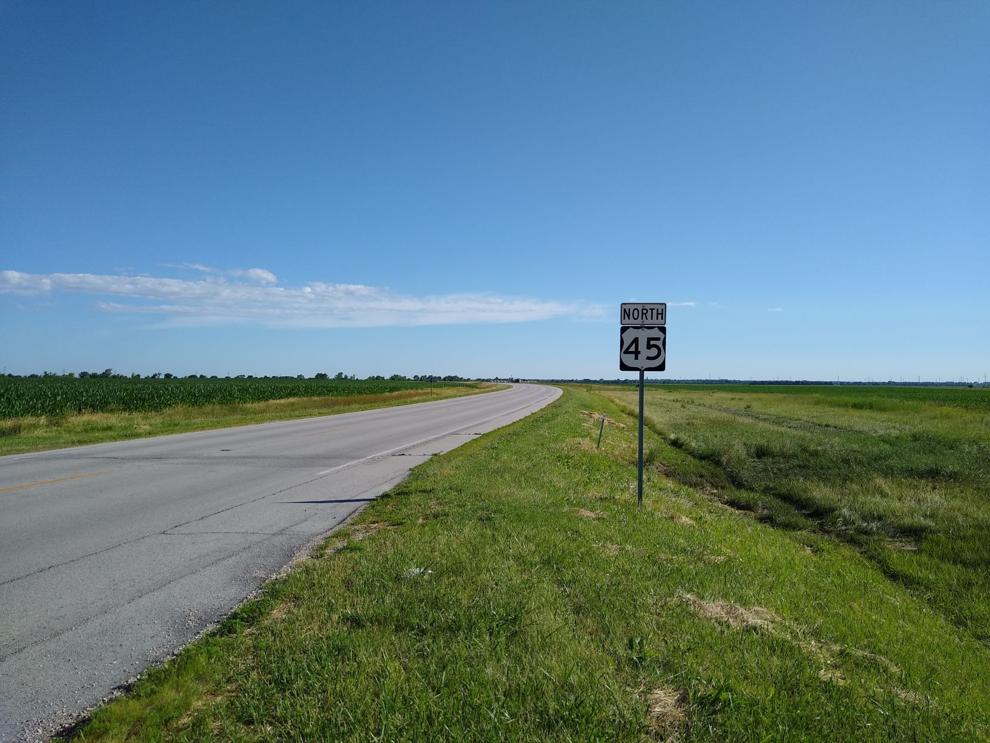 Wide open spaces on U.S. 45
"Route 45 north of Urbana to Rantoul is a 4-lane divided highway. North of Rantoul to Paxton there is a wide right of way – possibly meant for the future expansion of Route 45 in the 1940s. This ends south of Paxton. Was there a plan for Route 45 to be expanded to a 4-lane highway? If so, what was the plan? To go around or through Paxton?"
You're correct. Almost 70 years ago there was a plan to widen U.S. 45 south of Paxton, said Garnett.
"On U.S. 45 from south of Ludlow to the county line, the typical sections from the 1953 plans show the pavement to be constructed and the future construction in dashed lines. The old-timers told us that various routes were planned to be expanded to a four-lane typical section in the future when the ADT (average daily traffic) warranted the additional capacity," said Garnett. "U.S. 45 was one of these routes based the ROW (right-of-way) that was purchased.
"I-57 was built and the ADT numbers on U.S. 45 never increased enough in the rural portions to require the additional lanes.
"As for whether going around or through Paxton, this decision was most likely deferred until when it became necessary. A study would have likely been completed and determined the least expensive route.
"The study would have been completed prior to any of the environmental concerns that we look at today when making a decision like this, so the cost of doing the project would have been the major consideration."
Monticello elder abuse case
"Whatever happened to the elder abuse case in Monticello where the man sadly passed away? Last I heard several people were going to trial."
I asked my hardworking colleague, courts reporter Mary Schenk, to assist on this one.
Here's what she found: "Ronald Blankenship, 64, of Monticello, was found dead in his house in the 300 block of West Monroe Street on Aug. 23, 2018, among what police described as 'deplorable' conditions.
"His sister, Christie Brown, 63, and her son, Mason Brown, 36, both of whom listed addresses in Champaign, were charged the next day in Piatt County Circuit Court with criminal abuse or neglect of an elederly person and aggravated cruelty to a companion animal.
"The pair is free on bond. Both are scheduled to be tried in Piatt County Circuit Court in early October on the felony charges.
"Charges against a third man, Justin Tatman, 39, of Bement, were dismissed in June 2019 by State's Attorney Dana Rhoades, who said the investigation concluded Tatman he was not in a caretaker role nor was he related to Mr. Blankenship."
Kinch Street under the lights
"When are they going to start putting in the streetlights along Kinch Street in Urbana?
"Actually, that project is scheduled to start very soon," said Urbana City Administrator Carol Mitten. "The contractor expects to begin mobilization on-site on June 29. Streetlights will be installed at every intersection south of Washington Street along Kinch Street, up to and including Florida Avenue."
I suppose it's appropriate that Kinch Street get the best in public works. It's named for Mack Kinch, who was the commissioner of public works and superintendent of streets in the city for 42 years from 1927 to 1969.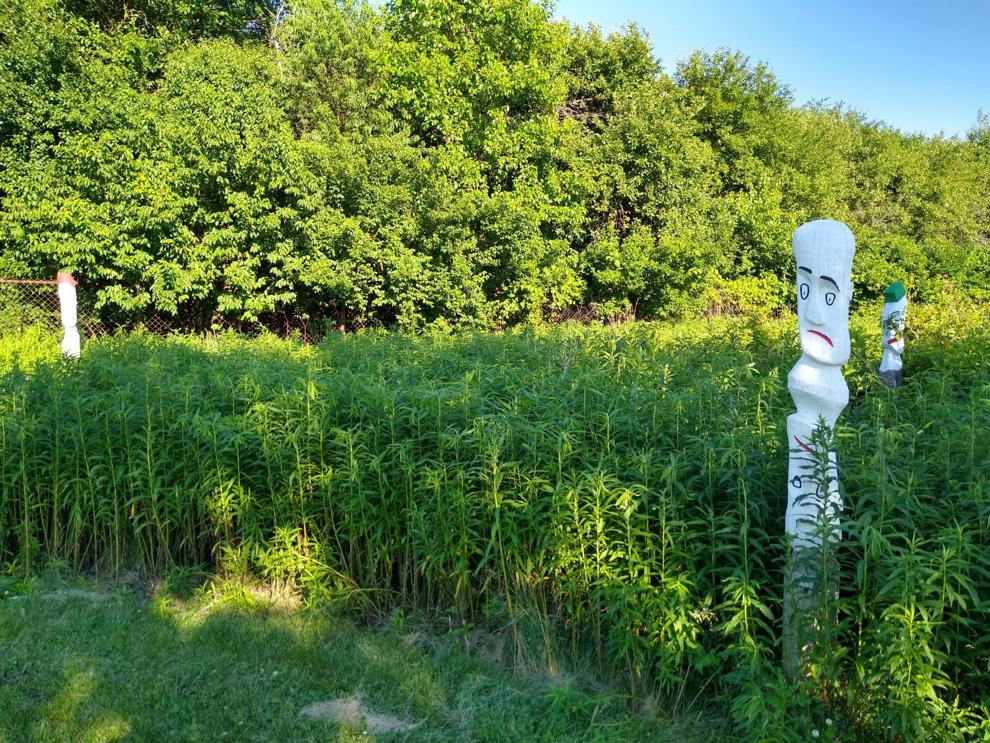 Meadowbrook Park birdhouses?
"In Meadowbrook Park there are bird houses on top of poles that look like they are instrument measuring devices. Could you find out if they are?"
I searched and searched the park for bird houses like those you described and couldn't find any although I saw a tall purple martin bird house on the Clark-Lindsey Village grounds.
Perhaps you are inquiring about the totems on the east side of the park. They are artwork created by artist Dee Bill. They were created in the 1990s and have been up at the park since 1997.
"They have been there for many years now and get painted to keep them vibrant," said park district Executive Director Tim Bartlett. "We get a lot of good comments about the poles and their faces."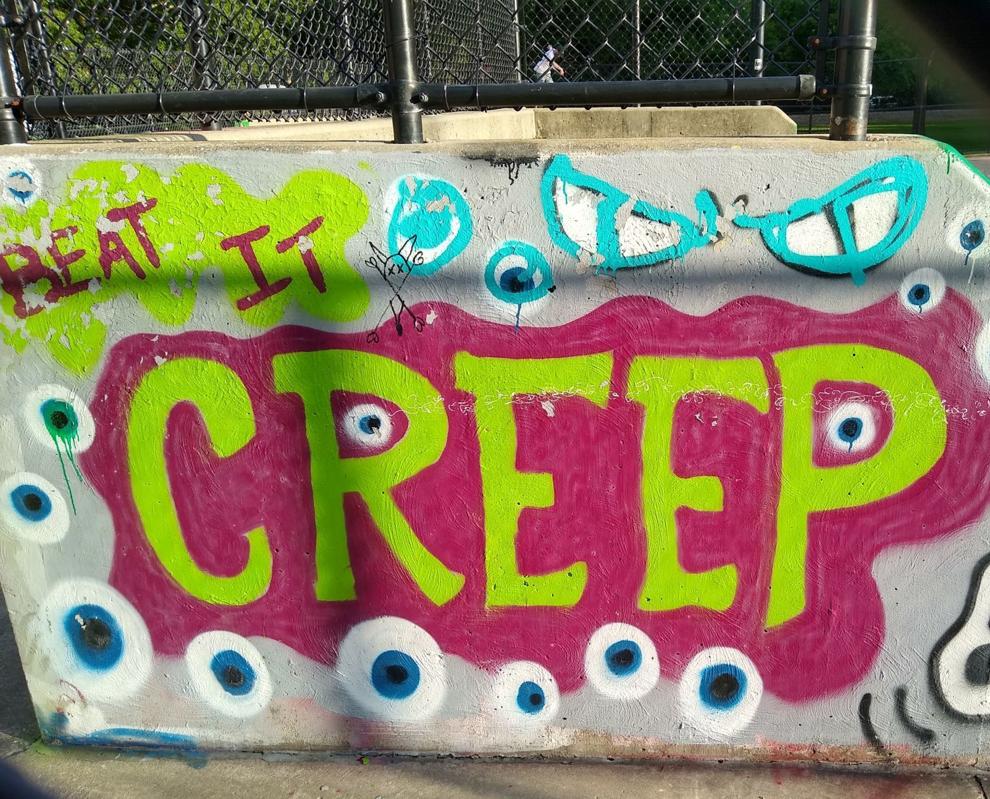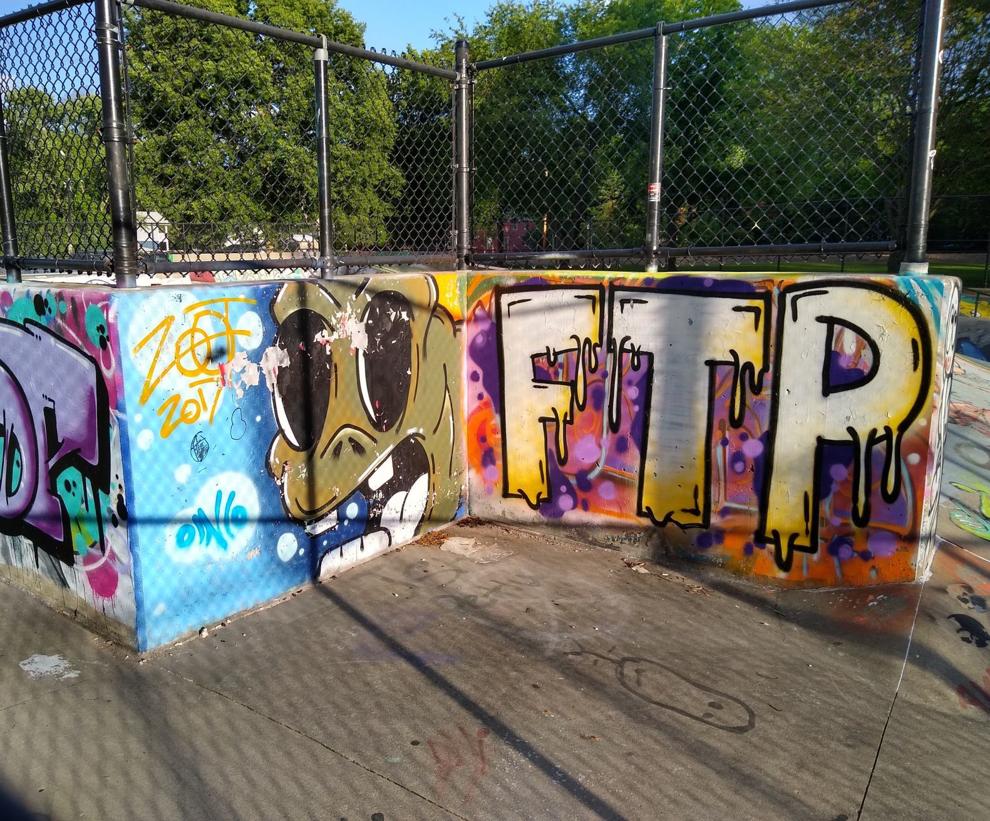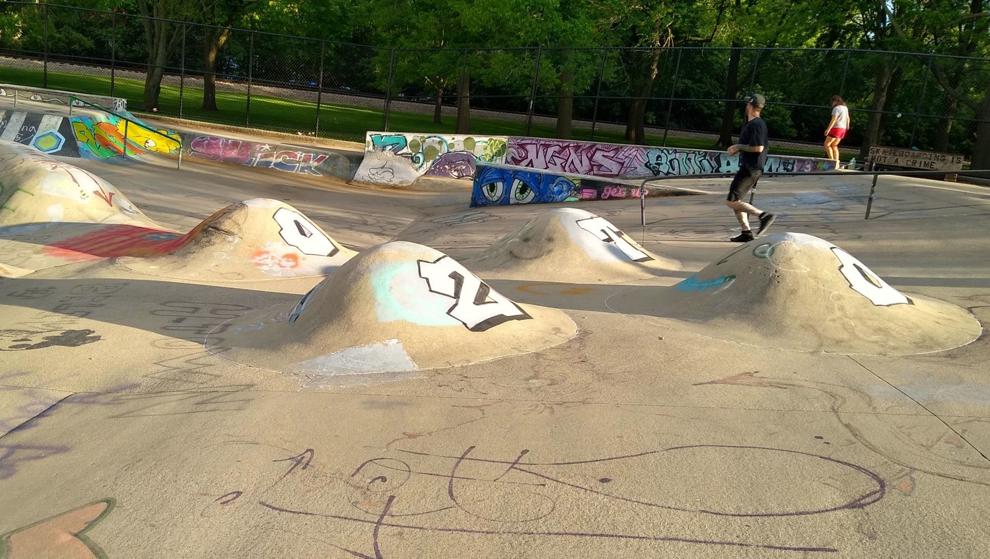 Public graffiti
"There appears to be continued graffiti at the skate park and Kaufman Lake. Does anyone care that it is occurring? Is it commissioned by those government entities? If not, they don't seem to care about it solving it."
The Champaign Park District's skatepark at Spalding Park "has been getting tagged since it was built, so the park district created the paint jam event to have artists come out and paint more pleasant images," said Jameel Jones, director of recreation.
"Also, the park district staff does go through a few times a year to paint over offensive wording and images at the skatepark or other sites that are tagged," Jones added.
The I-72 bridge structures near Kaufman Park are owned by the Illinois Department of Transportation, which doesn't have the resources to monitor a viaduct for grafitti.
Suggestion for UI solar panels
"Why doesn't the company installing the solar panels at U of I put them over the parking lot? I would provide shade for the cars underneath and would eliminate having to kill whatever would be underneath them in the fields."
The best option for building solar panels is ground-mounted, said Morgan White, the associate director for sustainability at the University of Illinois.
"As part of our Climate Leadership Commitments the University of Illinois at Urbana-Champaign has a goal of producing at least 25,000 megawatt-hours (MWh) per year from on-campus solar," she said. "When we evaluated options for meeting this goal, rooftop solar, solar over parking areas, and ground-mounted solar were all considered. The most cost-effective option is ground-mounted solar, and it also allows for larger-scale installations.
"For a sense of the scale, the two solar farms will be a total of 75 acres, while the largest parking lot on campus is less than 15 acres.
"When installing solar panels over parking areas, there are additional infrastructure and labor costs to raise the solar panels above the ground level. Although we do not currently have any solar over parking areas, Facilities & Services is working with the Parking Department to evaluate potential locations for a pilot installation. We are also continuing to install rooftop solar on individual buildings."
Solar panels are on the following five Urbana campus buildings:
— Business Instructional Facility
— the Activities & Recreation Center
— Wassaja Residence Hall
— University High School Gymnasium
— Electrical and Computer Engineering (ECE) Building.
"I'd also like to emphasize that the ground-mounted solar panels do not harm the plants under them. After building the first Solar Farm, we learned that there was an excellent opportunity for growing useful plants under and around the panels," said White. "This is a great opportunity for creating a multi-functional ecosystem, with pollinator supportive plants and protected areas for small animals and insects."
CoreLife closed
"I just saw the CoreLife being dismantled in Champaign, another victim of the coronavirus?"
Yes, the CoreLife Eatery at 2152 N. Prospect Ave., C, is now permanently closed.
Cubs and Marquee
"So MLB is back on or around July 24th, but Comcast has no deal with the Marquee Sports Network, so how are people supposed to watch games? Especially when fans likely won't be allowed in games by MLB, regardless of what the state of Illinois says."
Relax. The Cubs' chief bean-counter, president of business operations Crane Kenney, said Thursday that Marquee (owned by the Cubs and Sinclair Broadcast Group; how's that for a pair?) is close to a deal with Comcast.
"The pace has picked up dramatically, and I would just say we were very close to a deal," Kenney told the Dan Bernstein Show on WSCR-AM 670.
Enjoy those games while they're on because I'm not counting on a 60-game season.
Cheaper gasoline
"Is the cheap price of gas COVID-related?"
Certainly. Look at how the price of oil has dropped this week as fears about a big COVID flare-up shook the markets.
Oil prices, which had risen earlier this month to over $40 a barrel, have dropped in recent days as the number of COVID cases in the United States has increased. Low oil prices translate into lower gasoline prices.
Prices inched up Friday but were still below $40 a barrel.
Last December, before COVID, it was as high as $61 a barrel.
And demand for gasoline this summer should be unusually low, according to the American Automobile Association. It is projecting a 15 percent decline in summer travel.