Tom's #Mailbag, May 21, 2021
This week: remembering Campustown flooding, a spectacular old railroad trestle in Vermilion County is getting new life, a former Channel 3 anchorman has a new job, the local weather radio station should be back on the air by the end of the month and there's a good reason for recent repairs to Green Street in Urbana.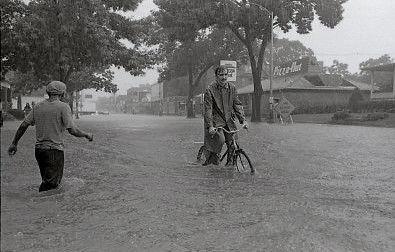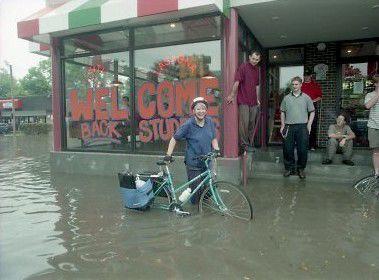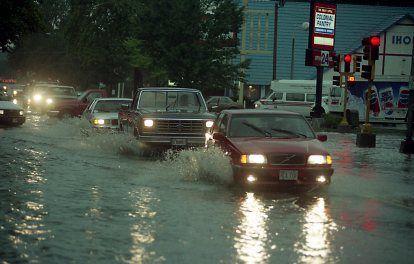 Campustown floods
"I remember whenever it rained, Campustown near 4th &  Green streets used to always flood and students could float canoes in knee-deep water. What year did the city of Champaign build the retention pond over on First Street and how much money did the city of Champaign spend to fix Campustown flooding?"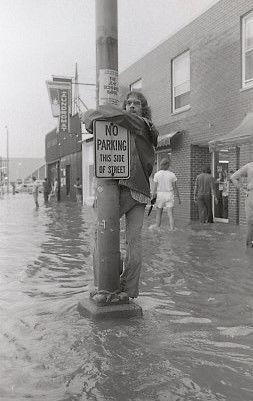 As recently as September 1997 a deluge flooded the corner of Fourth and Green streets and caused severe flooding of Campustown businesses.
During the tenure of Mayor Dan McCollum, work started in 1999 on excavation of a large hole at the corner of Healey and Locust streets designed to hold 111 acre-feet of water. The detention basin and Campustown channel were the first stage of a plan to ease Boneyard Creek flooding. The project cost $25 million.
Phase 2 of the improvements, including Scott Park drainage improvements, the Second Street detention pond and storm sewer improvements on White, Logan and Clark streets cost another $18 million. That work began in 2010 and took place over several years, said Kris Koester, spokesman for the public works department.
As you note the flood control worked. By July 2003, when another deluge hit Champaign-Urbana, there was no flooding in Campustown.
"'You can think of it as rush-hour traffic for raindrops. They just can't get away fast enough,' Eleanor Blackmon, assistant city engineer in Champaign, told The News-Gazette's Julie Wurth. 'We had around 7 inches in two days, so that's a lot of rain to get out of the way.'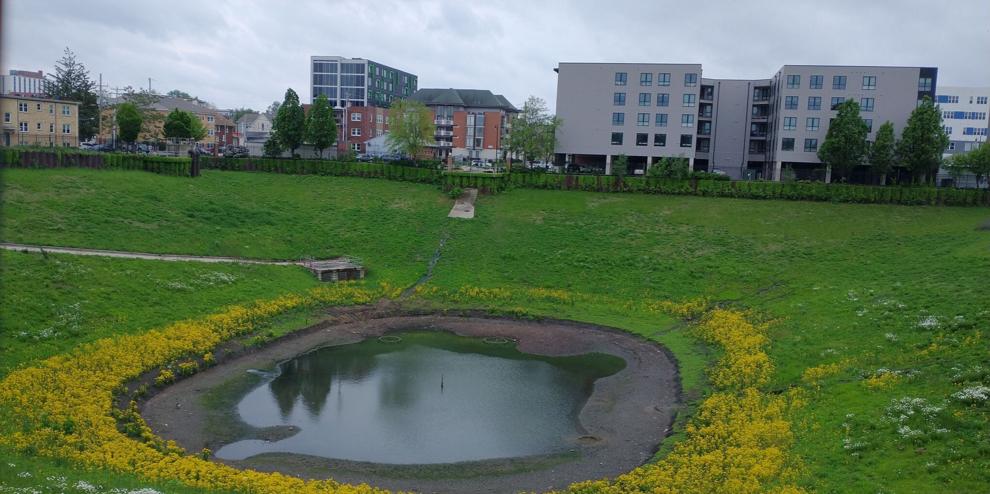 "But the huge Boneyard detention basin on Healey Street near Campustown did its job, she said. The water level in the basin greatly increased in 24 hours, from 15 feet to 39 feet, and — more important to business owners — no flooding was reported along Green Street.
"Ten years ago, Blackmon said, 'The Boneyard would have been out of its banks. You would have seen flooding in all the businesses that front on Green, and some that front on Healey. They probably would have had boats at Green and Fourth and Green and Third, or at least people wading in the water - which isn't a great idea.'"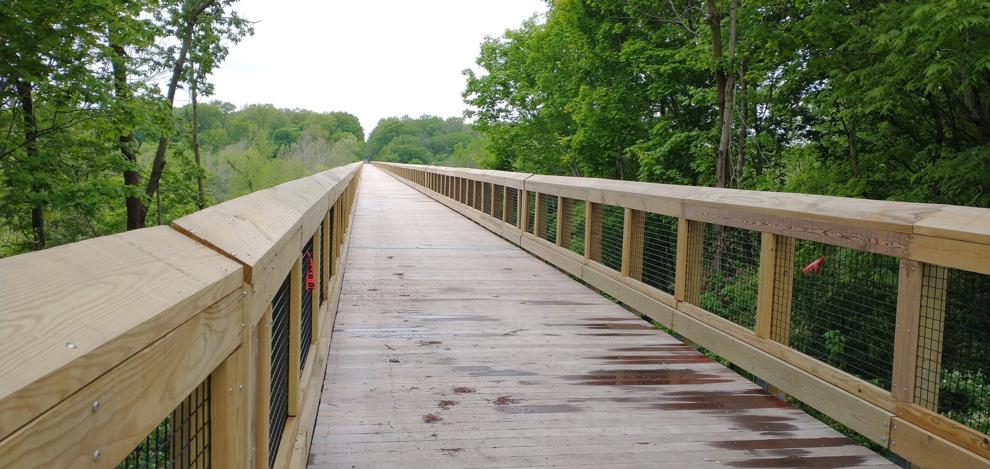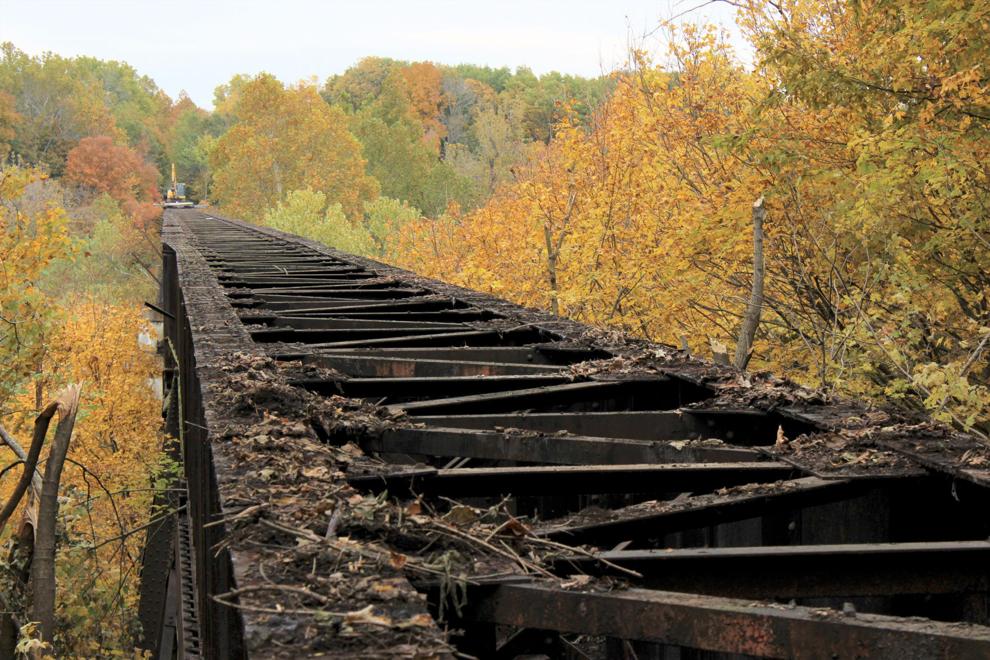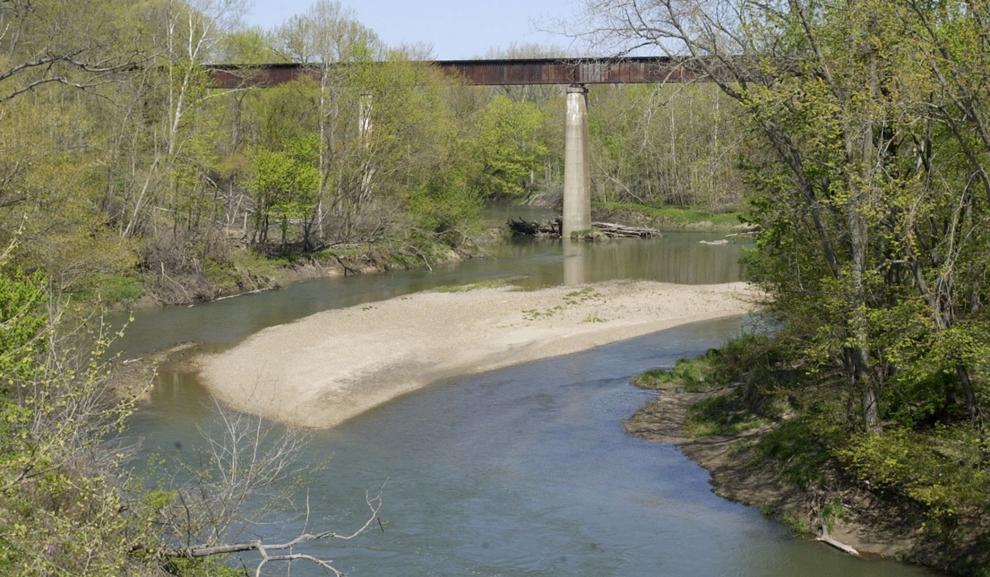 Restored railroad trestle bridge
"As I drive down (U.S.) 150 I see that the old trestle bridge close to I-74 looks like it is finished. Is it? How soon until it will open and hikers and bikers can use it? How long is it and will it have a name?"
The long-awaited opening of the spectacular bridge over the Middle Fork of the Vermilion River is coming this summer, said Louis Yockey, landscape planner and the acting Region 3 landscape architect for the Illinois Department of Natural Resources.
The former railroad trestle bridge will be the visual highlight of the 24.5-mile Kickapoo Rail Trail connecting Urbana with Kickapoo State Park west of Danville.
"We currently have two projects on the Kickapoo trail within the state park," said Yockey. "The bridge is nearly completed but we are still constructing the concrete approach ramps and railings. The finished aggregate trail surface also still needs to be placed.
"We are also constructing a 20-car trailhead parking lot with a vault toilet and other amenities. It is located east of Grey's Siding Road on Route 150."
Both the bridge work and the parking lot construction "will be active through July. I am hoping to have the trail open to the public in August if the construction is complete," Yockey said.
The trestle bridge, which is thought to date back to the 1890s, doesn't have a name, he said.
"I call it the fabulous 1/4-mile long bridge over the Middle Fork," said Yockey.
University Avenue work
"Traveling east on University in Urbana  the 'GOODWIN AVENUE' sign is completely hidden by the post that has been put right in front of it. Can the city move the sign to the front post so it can again be read by drivers?"
This is another temporary issue related to the reconstruction of University Avenue through much of Urbana.
Here's the word from Kensil Garnett, Region 3 engineer for the Illinois Department of Transportation: "I spoke with our construction staff and the sign in question will be placed on the new mast arm as early as May 20."
High school open houses
"Will there be additional open houses at Champaign Central and Centennial? Unit 4's website posted a notice of the Open Houses on 5/17 for the high school ones on 5/17 and 5/18. I'm sure more people would like to see the new buildings."
"We do not have additional open houses scheduled for Central and Centennial high schools at this time," said Stacey Moore, chief communications officer for the Champaign school district. "The community can stay informed about Unit 4 building projects by visiting our website."
NOAA weather radio station
"Is there any update as to when the tower antenna will be live for the Champaign NOAA weather reports? It was reported earlier that WCIA was going to let it piggyback on their tower."
The National Weather Service office in Lincoln reported this week that the Champaign weather station (WXJ-76) could be back on the air by the end of the month.
"The lease with a new tower location (WCIA-TV tower) for Champaign NOAA Weather Radio has been agreed to and signed. The structural analysis was completed and the tower is acceptable to support NOAA Weather Radio equipment," said the weather service office. "Electronics technicians and tower climbers will be at the new tower site near Champaign the week of May 24-28 to install the transmitter, antenna, cabling and data reception equipment. Testing of the data reception, broadcast equipment and signal strength will also need to be done.
"Champaign NOAA Weather Radio is planned to be back on the air by May 28. Several factors mainly related to appropriate weather for climbing the tower or unexpected equipment problems could slightly influence the timeline, resulting in extending beyond the May 28th date."
Newspaper sections
"Why is it that the newspaper still comes in separate removable sections when it is sometimes under 20 pages long total? Why not have it as one?"
"We could," said Managing Editor Mike Goebel, "but with so much local content we like to display as many different fronts as we can, for example, A-1, Our County, Sports, Entertainment. Our circulation expert Travis Vandiver says the biggest we can go in one section and keep full color capability is 16 pages.
"We still think many of our print readers enjoy being to pull out specific sections of the paper."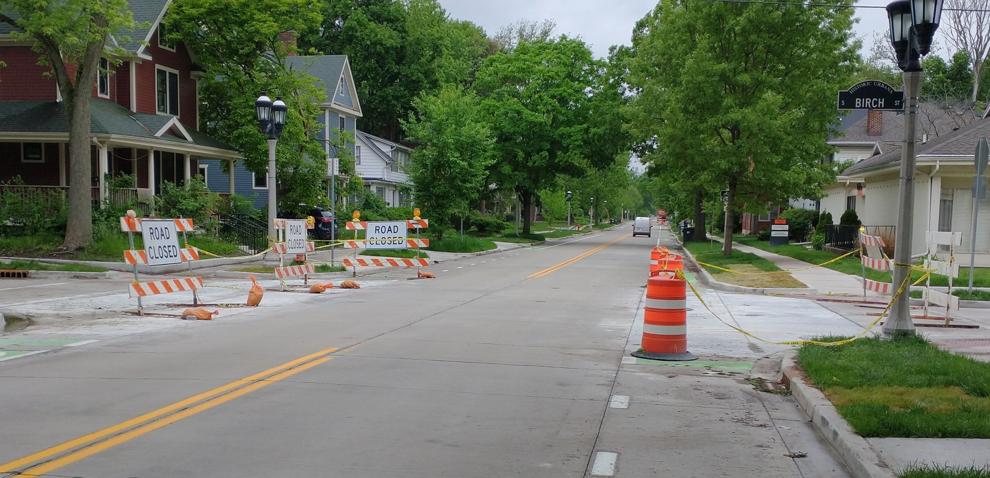 Green Street work in Urbana
"I thought all the work on West Green Street in Urbana was finished. But construction crews this week (May 10-14) have been cutting out sections of concrete that were poured last fall and laying down new concrete. Further, new sod in the parkway has been trashed, so all that has to be replaced. Why? And how much is this costing?"
Urbana Public Works Director Tim Cowan said that "the contractual final completion date and time for this project was May 14th at midnight. The City performed a final project walk-through earlier this month and identified a few construction deficiencies in addition to incomplete landscaping items.
"The deficiencies were primarily linked to uncontrolled cracking and unacceptable surface finishes on previously constructed concrete pavement and sidewalk. The City is not responsible to pay for any of the reconstruction costs for these repairs as they were addressing deficiencies in the original construction.
"In addition, this contract (like most other construction contracts) carries a 1-year warranty on all construction which allows the city to re-inspect anytime within 1 year of final acceptance to have other identified deficiencies addressed. If other deficiencies are identified within the first year beyond final acceptance there may be additional construction repairs made between now and next year.
"I should also state that the concrete repairs will require an appropriate curing period to gain sufficient strength prior to opening these repaired sections to traffic."
Champaign neighborhood complaints
"In regard to complaints on yards and homes to the city of Champaign, how many times can someone send in compalints? Is there a limit? I know the city of Champaign doesn't look for properties to cite, but will only follow up on complaints forwarded to them. Wonder if there are certain residents that continually 'bother' the city with nit picky complaints such as yards too long in their neighborhood, paint off peeling, and other such complaints?"
"Thanks to your reader for this question," said Tim Spear, code compliance manager for the Champaign Neighborhood Services department. "The city does not limit the number of complaints that any person can submit. Many of the complaints that we receive are submitted anonymously.
"It is important to note that not all complaints lead to residents/property owners being contacted by the city. The inspectors check out all complaints, but only contact the residents/property owners when violations of the city code are found. Inspectors generally will only cite violations that can be seen from public right of way unless a neighboring property owner grants permission to view the violation from their property.
"The reader is correct in noting that the Neighborhood Services Department has been focused on responding to complaints due to a lack of capacity. Inspectors have generated some cases that they have noticed while responding to complaints, but they have not been able to perform systematic inspections in neighborhoods to check for code violations. The inspection capacity is slowly building back up and we expect to resume systematic inspections in June.
"We encourage anyone with concerns about properties in their neighborhood to contact us at (217) 403-7070 or by filling out a  complaint form online."
Late mail delivery
"I was wondering if you know why mail is so late anymore? We live in southwest Champaign. We get our mail anywhere from 2 p.m. to 7 p.m. My next-door neighbor delivered mail in Danville for 20 years and said he doesn't know either."
Kimberly Caldwell-Harvey, spokeswoman for the U.S. Postal Service in St. Louis, blames delays on COVID.
"As a result of the Coronavirus Disease 2019 pandemic, Postal Service Priority Mail products and First-Class packages may temporarily experience delivery delays due to limited transportation availability," she said. "Please be assured, the Postal Service's goal is to move packages as expeditiously as possible, and we are committed to ensuring timely processing and delivery of essential packages."
Whip-poor-will sightings
"To my amazement, at 4:22 a.m. Tuesday I heard the loud and unmistakable call of a whip-poor-will through my bathroom window here in Champaign. It continued for perhaps a minute or more. At 4:52 a.m., Wednesday, I not only heard but recorded the whip-poor-will. And just now (5:15, Thursday), I believe I have heard, faintly in the distance, the distinctive repetition of the call, though only its first and third 'syllables,' which I confirmed by opening the window to the frigid air. I admit I would not have suspected today that I was hearing a whip-poor-will, among other early morning bird calls, had I not so distinctly heard one the previous two mornings: the call was faint enough that the softer middle syllable, 'poor,' was completely audible. But the rhythm and the almost pauseless repetitions betrayed the nature of the call.
"My question: are whip-poor-wills common here? Have others heard whip-poor-wills this spring? "
"Eastern whip-poor-wills are quite rare in Champaign County," said Ian Souza-Cole, a graduate student at the University of Illinois' Natural Resources &  Environmental Studies department and an expert on whip-poor-wills.   "They are typically only detected in this area during spring and fall migration, and I suspect that the bird this person heard is a migrant headed to breeding grounds in Wisconsin, Michigan, or Ontario. While some whip-poor-wills in Illinois have already started to lay eggs (we have an ongoing study in central Illinois at Sand Ridge State Forest, where they are very abundant) others are still in transit, likely waylaid by cold weather earlier this month.
"I saw on eBird that an Urbana resident heard a whip-poor-will in their neighborhood last night as well. During the last two summers I conducted surveys for whip-poor-wills across central Illinois, including at some local natural areas (Homer Lake, Allerton Park, Kennekuk). Not a single whip-poor-will was detected, despite these being sizeable tracts of forest.
"My analyses pointed to low moth abundance and an avoidance of urban areas as major factors in their patterns of occurrence. Unfortunately, I believe they are mostly gone from this part of the state, in terms of being breeding residents. However, if anyone were to hear one consistently for many nights later in the summer, that would be a significant observation probably indicating that some persist in this area."
Former WCIA anchorman
"Where is Paul Cicchini, WCIA newscaster?"
He has gone to work as a public information officer for the Illinois Department of Labor.
Cicchini explained the move last week in a series of posts on Twitter.
"But I'm opening a new chapter in my professional career on Monday. While I won't be working in television, radio or print, it's without doubt a role where I'll be utilizing the skills I've learned over the last 13-plus years," wrote Cicchini, who came to WCIA from WMBD-TV in Peoria. "This was not a transition I expected, but it's an opportunity I couldn't pass."
More on Illini paint colors
A little more on Illini paint colors from Nik Lyons, owner of Nicks Paints in Champaign:
"I really enjoy reading your mailbag each week. This most recent column from May 15 had a question about Illini paint colors. We have a local paint store in town that provides the University with a lot of their paint including Illini Orange & Illini Blue."