Submit your questions by clicking here
Questions this week about nesting eagles in Savoy, a shuttered post office in Bondville, motorcylists in Urbana, a beach in DeWitt County, a proposed casino in Danville, a restaurant open for indoor dining in Arthur, and a bridge replacement project in northwest Champaign County.
Also, confusion on property tax bills in Champaign, an update on the NOAA weather radio station for Champaign County and portable commodes in downtown Champaign.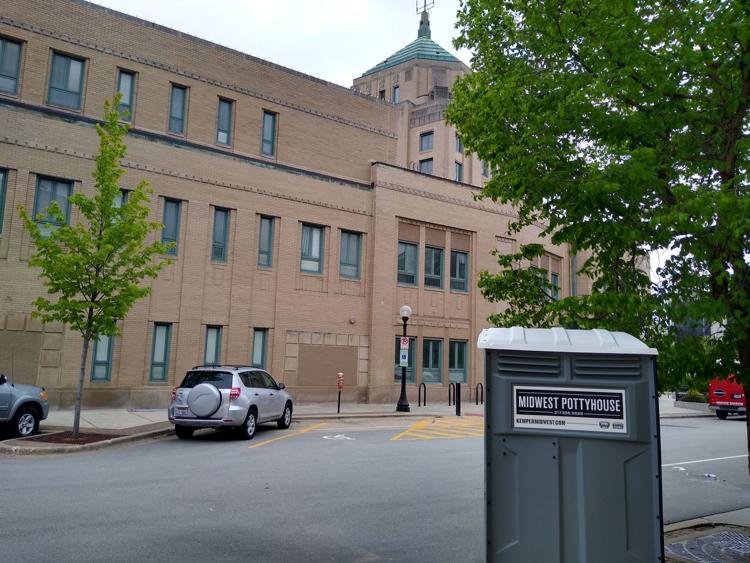 Downtown Champaign relief
"How come there is a big (grey) portapotty outside the Champaign City Building now, and how long has it been there?"
Kris Koester, spokesman for the Champaign Public Works Department, said the portable toilet — one of five now in downtown Champaign — was placed outside the City Building in early March.
"In late summer 2019, the city of Champaign identified a way to provide these facilities for use by our residents and visitors, including our residents without addresses who might lack access to sanitary restroom facilities," he said. "When the shelter in place order was enacted and many buildings were closed, two additional units were added, for a total of five in various locations around downtown.
"The city has received positive feedback from the public regarding their availability."
Reckless motorcyclists
"We seem to have attracted a group of motorcyclists to the east side of Urbana who use certain roads as a racetrack and a place to practice tricks. The group consists of upward of 15 cycles and is insane when it roars through. Besides contacting the police, which doesn't do much good because the group is long gone in a matter of seconds, what are some other options to getting this recklessness under control?"
The response to your question comes from Urbana Police Chief Bryant Seraphin and City Administrator Carol Mitten.
"The city has received some complaints about this issue in and around Stone Creek. The police department recently deployed a speed trailer with the hopes of slowing people down, but that proved unsuccessful," they wrote. "Based on additional complaints, we have asked our patrol division to step up patrol efforts and conduct some targeted enforcement to address this situation.
"Now that we are moving into Phase 3 of Restore Illinois, the police department is more comfortable with making these traffic stops. (The department had curtailed them in response to the pandemic to limit the potential for exposures.) In addition, Public Works Engineering staff is considering short- and long-term tactical solutions to the general speeding that occurs along Stone Creek Boulevard."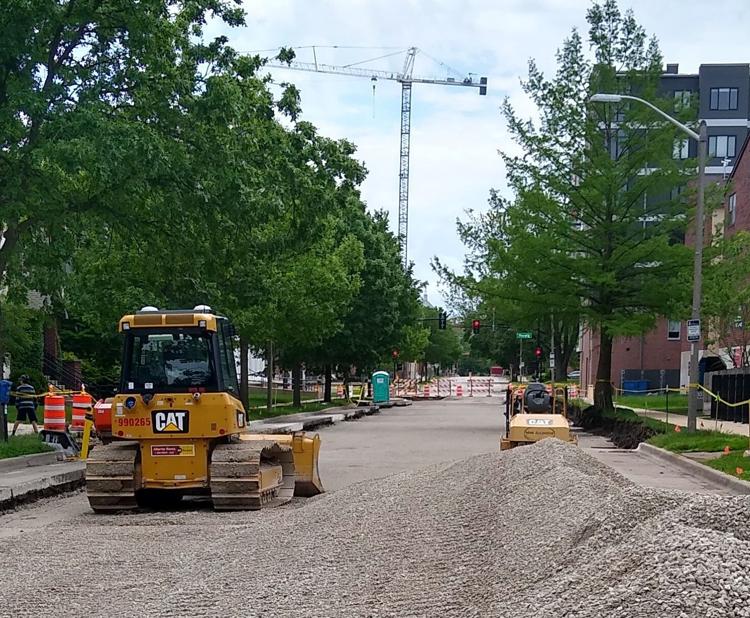 Daniel Street blues
"Daniel Street just west of Prospect Avenue is a disaster that is taking a toll on my car. Is there anybody you can call that will fill some of the dozens of potholes?"
The city is already rebuilding part of Daniel Street in the University of Illinois campus area.
And the part of West Daniel Street that you are asking about will be resurfaced for about a half-block later this summer, said Koester.
Concerned about nesting eagles
"Is there any organization such as the Audubon Society, the Department of Natural Resources or perhaps a wildlife biologist at the university that is monitoring the nesting pair of bald eagles on Old Church Road in Savoy?"
They're doing fine, said Jeff Hoover, an avian ecologist at the Illinois Natural History Survey.
"Bald Eagles are doing well and are a fantastic success story of the Endangered Species Act and were de-listed. They were also removed from the Illinois state list as well. They are still protected. I believe that they are now nesting in more than half of the counties in Illinois," said Hoover. "Best thing that humans can do for eagles is to respect and admire them from a distance (i.e., not bother them or harass them)."
He said he and his wife, also an ornithologist, and their two daughters viewed the eagle's nest with a spotting scope from the west side of the Savoy Rec Center building.
"From what we could see, there is at least one chick in the nest. As for the two parents, one has the quintessential bald eagle plumage with the white head feathers and dark body (meaning it is at least 5 years old), whereas the other is still more mottled brown (indicating that it is less than 5 years old)," he said.
Champaign library tax confusion
"I noticed on my 2020 property tax bill the library tax went from $10 to $150. I have not been able to find a reason for this and the Champaign County Treasurer has not responded to my requests for information. I live in the city of Champaign. Do you guys know anything about this substantial increase in the library tax?"
Your property tax did not increase this year, but there was a mistake on city of Champaign property tax bills last year.
"The 2018 Champaign County Real Estate Tax Bills sent to residents of the city of Champaign (due in 2019) incorrectly reflected the dollar amount under Library Tax Paid," said Champaign Public Library Director Donna Pittman.
"Champaign Public Library has two levies, one for operating (.3940) and one for library improvement, (.0282) for a total of .4222. Normally, the amount shown for Library Tax Paid on the Tax Bill is the total paid, or the .4222 rate.
"Last year's bill showed the amount equal to the .0282 rate. That is why it appears that the library tax has gone up significantly. We informed the Champaign County Clerk's Office last year about this error and they corrected it on this year's bills."
Pittman noted the library's tax rate has been the same for 25 years.
"We knew people would think the library tax skyrocketed when they compared last year's bill with this year's," she said. "I let the county clerk's office know about this and we sent out a social media post (last July)."
It said: "The Champaign Public Library was recently made aware that the library tax amount shown on Champaign County Real Estate Tax bills sent to property owners earlier this summer is incorrect. Due to a calculation error in the printed statements, the dollar amount shown next to 'Library Tax' is incorrect and lower than the actual amount billed for the library tax levy. The total tax rate and the taxes collected and paid to the city of Champaign (which includes the Library's tax levy) is correct and the library will receive the full and total tax revenues levied for operations and improvements.
"The 'Library Tax' amount is shown for informational purposes only and has no impact on the calculation of the rest of the property tax statement.
Champaign Library staff have been in contact with the county clerk's office, which is aware of the error and the confusion it has caused."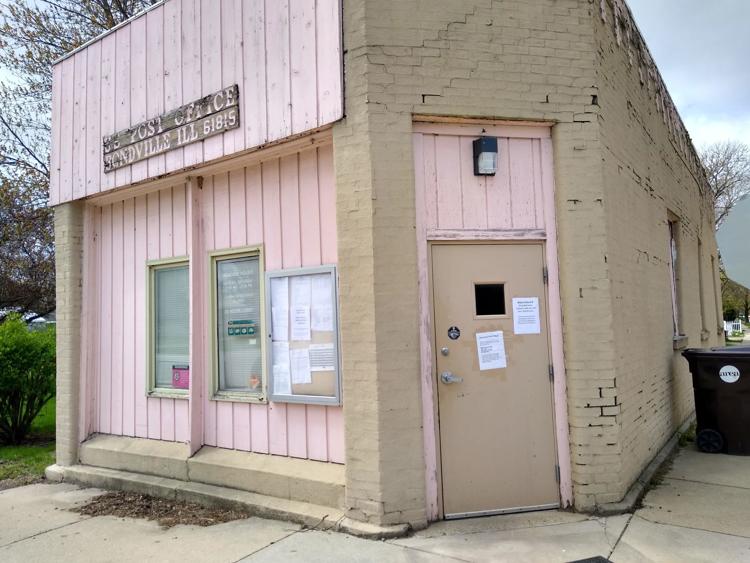 Bondville post office
"What has happened to the Bondville post office? It was closed more than a month and a half ago and still no change."
Yes, the approximately 100 customers of the postal station in the small town west of Champaign still have to drive about 17 miles round-trip to Mahomet to pick up their mail.
And Bondville village President Karl Kennicker isn't happy about it. The little post office was closed on April 8 and there is no resolution to the problem.
"We're tying to find another spot to put a post office on Bondville," he said. "They said it would cost over $200,000 to fix (the old post office building). It's bad. It's an old building and it's bad. The guy who owns it says he's not going to spend any money on it so that's the way it is."
One option being explored, he said, is to locate a new post office in an old lumber center building on the east side of Bondville.
"But my fear of that place is that it's right on (Illinois) Route 10 and we have a lot of old people in town and if they have to come out to that area and pull off and onto Route 10 ... well, the speed limit there is 45 but you're lucky if they do just 55. I see nothing but a problem, an accident waiting to happen," said Kennicker. "My recommendation to them is why don't you just do rural route delivery to everyone's house? Or maybe you could put up a big mailbox where everyone could go to pick up their mail. They said it would cost too much money to do that and it would be cheaper to put a box in everyone's driveway. Well, I said, that would be fine with me. I know they're trying to figure something out. I would like them to do that but it's not up to me."
He noted that all customers on Illinois 10 between Champaign and Bondville have rural delivery.
"It's just ridiculous that you have to drive all the way up to Mahomet to get your mail and sometimes there's nothing in there," Kennicker said.
"The thing for me is I have to drive all the way up to Mahomet to get my newspaper since they don't deliver to the house. It's a bear. I drove all the way up there yesterday to get my mail and all there was was the newspaper. If I didn't have the newspaper I'd make the trip once a week.
"It's not right. We're not happy about the deal but what are you going to do?"
Clinton Lake beach
"Do you know when Clinton Lake beach is opening up? My kids and I frequentit all summer long. Due to the (Department of Natural Resources) having to close state parks, I noticed that their campground and the majority of their amenities are opening up May 29th, but not the beach. Why is this?"
"While IDNR state parks, fish and wildlife and recreation areas have reopened, some amenities at the sites remain closed for health and safety reasons," said Tim Schweizer, a spokesman for the agency. "To avoid close contact with other visitors and to limit crowding, playgrounds, shelters, beaches and visitor centers at IDNR sites will remain closed until further notice."
Danville casino
"Not that I have money to burn right now but I'm curious: Has there been any movement on the Danville casino? Or is it stuck in limbo — like just about everything else — because of this virus?"
It's stuck in limbo because the Illinois Gaming Board, which has the license application from Haven Gaming LLC to operate the proposed Danville casino, hasn't met since January.
Danville Mayor Rickey Williams Jr. said he has told media outlets he wouldn't give interviews about the casino until something changes. And nothing has changed so he isn't talking about it.
Northwest county bridge
"Do we know how long the two bridges will be out on the Dewey-Fisher Road, also known as Mattis Avenuenorth?"
Champaign County Engineer Jeff Blue said, "We started on April 1 and the contracts have 60 working days. Barring any really bad weather they should be done by August."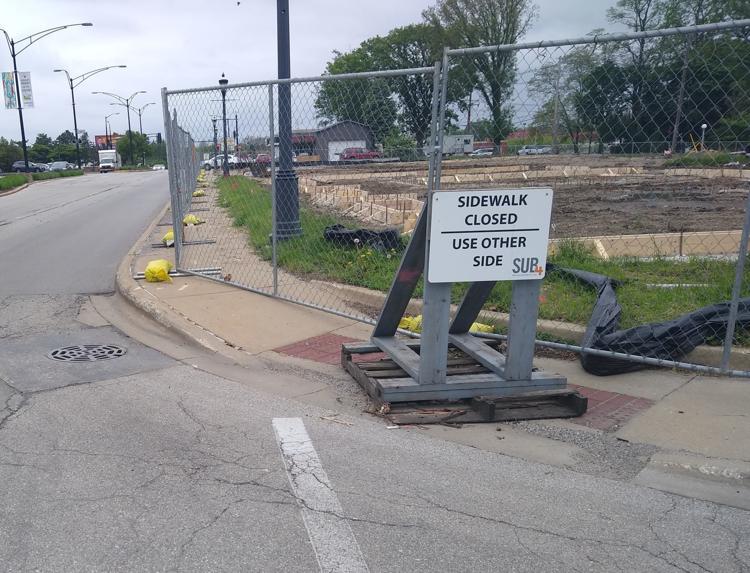 Urbana construction site
"I'm concerned about the construction-related sidewalk closure in Urbana along Vine & Urbana and Elm & Green streets. The abrupt closure of all of the sidewalks around this full-block construction sites is dangerous, causing those of us walking dogs, with kids, or just out for exercise to walk in the street or to cross the street mid-block. Does the contractor have any obligation to provide a temporary pedestrian path? And will the sidewalks be closed for the whole length of this project? Other towns require pedestrian-safe alternatives during construction."
Based on the sign at the construction site, it looks like there is a pedestrian-safe alternative: the sidewalk on the other side of the street.
Justin Swinford, an engineer with the Urbana Public Works Department, said that the department "reviews traffic control measures put in place by contractors working within the Right of Way. Traffic control plans shall follow standards put forth by IDOT and the city of Urbana. Where sidewalks must be closed to accommodate construction pedestrians may need to use the sidewalk on the opposite sides of the street, but should only cross the street at intersections or marked crosswalks. All roadway users should exercise caution when traveling near construction areas.
"As this project includes the replacement of sidewalks, we expect the sidewalk closure to last for the majority of the project duration."
Weather radio station
"Champaign's NOAA weather radio went down on Feb. 20 with word that it might be six months before a new tower was found. Is there any update on when this critical service will be back on the air?"
It's seems to be close to being resolved.
A message was posted on the National Weather Service website earlier this month noting that "we have identified a new tower location, and are waiting for lease agreements to be finalized by NOAA. Once a lease agreement is in place, we will install the transmitter and antenna, and begin system testing to ensure the associated signal is performing at an optimal level."
Arthur restaurant
"Why is it OK for restaurants in Arthur to be open for full indoor service? I would not think Yoder's Kitchen would be safe since it primarily a buffet. They have been open for almost two weeks now."
The reason is that both the Douglas County sheriff and state's attorney have said they would not enforce Gov. JB Pritzker's previously issued stay at home orders. And Yoder's is on the Douglas County side of the line that divides Arthur.
State's Attorney Kate Watson told The News-Gazette earlier this month that she wouldn't seek court orders against restaurants provided that there are "social-distancing protocols in place."
"I think the possibility of criminal prosecution in Douglas County is one of least concerns a business or church faces in making a reopening decision, in light of the civil-liability issues and threatened license revocations being espoused by the governor," Watson said