Ever give Tom's Mailbag a try? Just click here - trust us, it's fun
The balmy weather seems to have people thinking about staying outdoors and lessening the threat of COVID-19. We have questions this week about places to dine al fresco, where to converse safely outdoors, the basketball courts at Yankee Ridge School, the smell of skunk and what University of Illinois beef cattle are munching on this fall.
Also, questions about COVID hospitalization figures around Illinois, abandoned gas stations, Lincoln Square's history and the first Kmart in Champaign.
Outdoor dining guide
"I would love to continue to dine outside at local restaurants. Is there a way to find out which ones are set up to do that? I find that websites are often not updated."
Your best bet is the list put together by Visit Champaign County here.
Among the local restaurants offering sometimes limited outdoor dining are: Aroma Cafe, Aspen Tap House, Big Grove Tavern, Billy Barooz, Black Dog, Boomerang's, Bunny's, Esquire, Huber's, Jupiter's at the Crossing, Neil Street Blues, Original Pancake House, Pour Brothers, Seven Saints, Sun Singer Wine and Spirits, The Wheel House and the Wild Hare.
Please call ahead or check a restaurant's website or Facebook page before you go to make sure they are still offering outdoor service.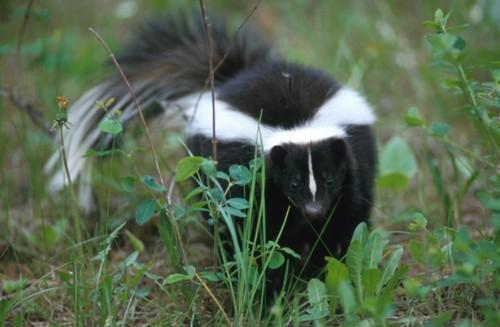 Skunky fragrance
"I swear this is not a prank question: As I've criss-crossed Champaign during the day in recent weeks, I've been noticing many more instances of … uh … eau de skunk in the air. I'm used to detecting the occasional skunk as I drive in rural areas, especially at night, but I don't recall ever getting a whiff of so many of them here in town during the day. Have wildlife biologists noticed a rise in skunk numbers within C-U this fall?"
The University of Illinois College of Veterinary Medicine said it has not noticed an increase in calls about skunks in the area, nor has the Illinois Natural History Survey.
And Steve Beckman, who runs the local business Anything Wild Animal Control, said he believes the skunk population has been depressed.
"We are down in the numbers now. We have been for about five years," Beckman said. "The most I think I've ever caught in one year was about 185. And maybe in the last year we caught 30. They're starting to rebound, you're starting to see a few more hit on the road, which is an indicator of what's going on. But I do not believe, other than possibly in an isolated pocket, that there are more skunks."
Beckman said skunks don't see well "and they go out at night after rains and eat nightcrawlers and things off the road and they get hit by cars a lot."
On the other hand he said that "raccoon and beaver numbers are high. I'm not seeing as many coyotes. Fox are high in town."
Beckman said you may be smelling red fox, not skunks.
"We caught 10 over by Centennial (High School)," he said, "and we brought them to the U of I to be treated for mange. There are some more of them over by the Champaign Country Club. I got a call of one sleeping on a front porch.
"Foxes urinate to mark their territory and they do it all over. They have a mild skunk type of small. So I would bet that (the reader) is smelling fox and not skunk although I don't know that for sure. Skunks don't just spray. They do when they're alarmed or when they're being attacked or during the mating season when the males are fighting each other."
One more thing: you could be smelling what is commonly known as skunk weed. I've smelled it more frequently in the last year or so.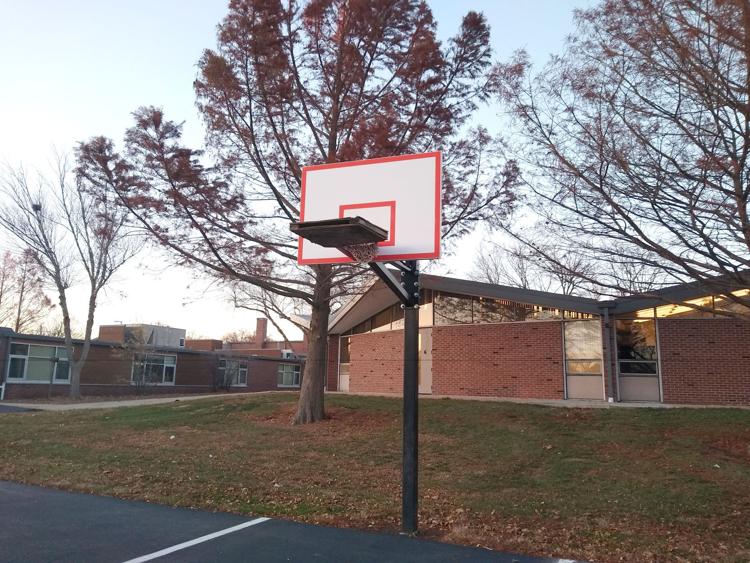 Goaltending
"Will the basketball hoops at Yankee Ridge (School in Urbana) ever be open? I thought hoops were opened up at a certain point earlier this summer but the hoops have been covered there for quite a while."
They will not be reopened soon, said Urbana schools Superintendent Jennifer Ivory-Tatum.
"I do not have a finite answer to your question. Right now, with cases spiking, we will reassess when positive transmissions decrease," she said. "The YR basketball courts are hard to control and very accessible. We had an incident earlier during the shutdown where there was a huge neighborhood soccer game on the YR field even though we had the goals locked together.
"So, for now, the hoops will stay covered until the numbers improve. I'm sure that is not what the person who wrote to you wanted to hear, but we are erring on the side of safety on this one."
Missing speed limit sign
"There used to be a sign advertising the speed reduction ahead on very North Mattis Avenue, where the speed limit drops to 45 from 55. Not sure why but it's no longer there and the 45 MPH sign really just sneaks up on you. Any chance the county or the township, or the city could do something about replacing that sign?"
After some consultation with city officials, Champaign County Engineer Jeff Blue said it was determined that the missing sign was the county's responsibility.
"We will be putting the sign back up in the coming days," he said.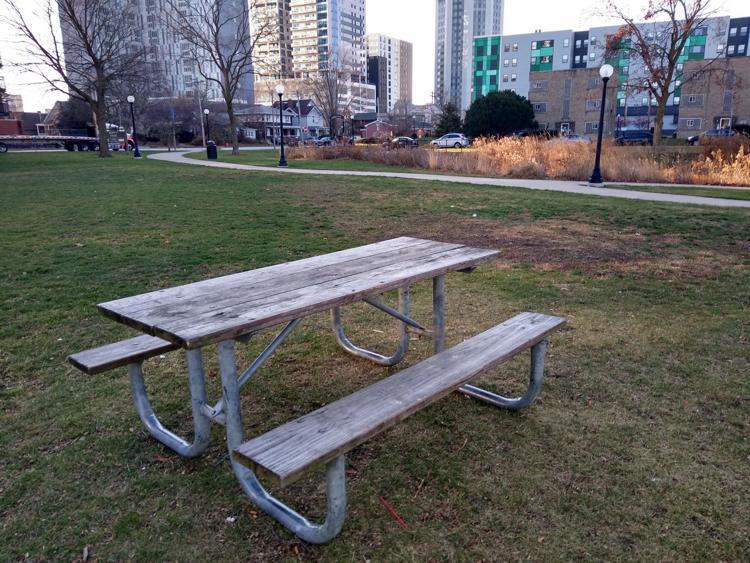 Winter-use picnic tables
"Do the Champaign and Urbana park districts remove picnic tables for the winter? If they usually do, could they leave them out this winter to give people a place to meet during the milder weather?"
There are still plenty of picnic tables where you can safely meet this winter.
"We leave all tables out through the winter with the exception of a handful of ones that need to come in for repair," said Dan Olson, director of operations for the Champaign Park District.
"We do leave most of our tables out, some are relocated to other park sites or areas of a park," said Tim Bartlett, executive director of the Urbana Park District. "We do 'thin out' some tables from sites that are lower-use sites over the winter and store them at our Hickory Street storage facility.
"The picnic tables get used all year long. We can also adjust to user needs if we hear that more are needed. Folks can contact any of our offices to make a request for more tables at a particular site."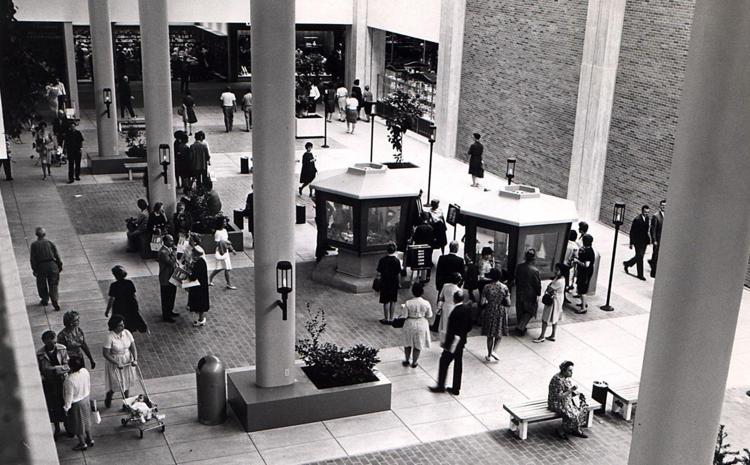 Lincoln Square's history
"Is there any info about how the placement of the Market at the Square came to be? Was there any controversy, arguments, or public input about where it was placed at the time? The building as-is completely cuts off Green Street which should be a main thoroughfare between campus and Vine Street. It also swallowed the front main entry to the Landmark Hotel, severely diminishing its historic qualities on the exterior at least, and generally seems just to serve to be in the way of other more important features a downtown should have. I am happy the city of Urbana did some studies and gathered community input in the last few years which is good but the damage has already been done to the Landmark Hotel and the rest of downtown. That's got me wondering if this was perhaps just bad urban design/planning or if anyone recognized these issues beforehand and tried to speak up and challenge the development as we see it today."
Quite the contrary.
The development you refer to as Market at the Square was called Lincoln Square Mall and it opened in 1964 as a much-heralded, architecturally unique retail space designed by famed national architect and planner Victor Gruen.
It had its genesis in 1959 when three local businessmen, concerned about Urbana's stagnant business district, met with the president of the Chicago department store chain Carson Pirie Scott and Co. Eventually, after many meetings and much negotiation, including acquiring property in a nine-square-block area with the city's approval, it was announced in June 1963 that the indoor mall would be built.
If there was any opposition, it was silent. Even the people and businesses displaced by Lincoln Square supported it, according to newspaper stories at the time.
Dividing Green Street was always part of Gruen's plan for what was envisioned as an "'introverted' building that would draw people into an open light-filled, climate controlled shopping experience," wrote Karen Kummer in a 2006 application to have Lincoln Square included on the National Register of Historic Places. It was.
"Although this design concept had been used elsewhere, it was still a novel idea," wrote Kummer. "Stores were located in the space theoretically least visible from public roads and least directly accessible to automobiles — in the center of the site, rather than bordering the streets. But in forming a center of compactness, the spaces between the stores could be reserved for pedestrian use and were equipped with amenities such as landscaping, benches, fountains and works of art."
The mall had sculptures, live plants, aquariums and other pieces. The construction superintendent of the project, Frank Dallas, said that Lincoln Square's interior "is beautiful enough to make up for the 'run of the mill exterior.'"
As for the hotel — originally known as the Urbana-Lincoln when it was opened in 1923 — great lengths, Kummer wrote, "were taken to incorporate its entry facade features (arched entrance and flanking casement sash) into the mall's interior design."
C-U's first Kmart
"Was the first Kmart store in Champaign on West Springfield Avenue as a part of the original Country Fair Center? Friends have a wager on this question."
The first Kmart in Champaign-Urbana opened in March 1963 at the northeast corner of Prospect Avenue and Bloomington Road, now the home of Home Depot.
Country Fair, which opened in September 1959, had a Goldblatt's Department Store as its anchor. A few years later Zayre Corp. announced that it would build a department store west of the original Country Fair development along Springfield Avenue. It opened in November 1963.
Asphalt shingles recycled
"With all the asphalt roofs in C-U being replaced, is there a company that is recycling the shingles rather than dumping them into the landfill? I did stop and ask one of the employees what they did with them, and he said, 'You do not want to know.' I read that some companies do used them for roads, but it is expensive."
A lot of the local asphalt shingles being torn off end up being recycled either by Henson Disposing & Recycling or Republic Services, both in north Urbana.
You are correct that the No. 1 use of recycled shingles is in road construction.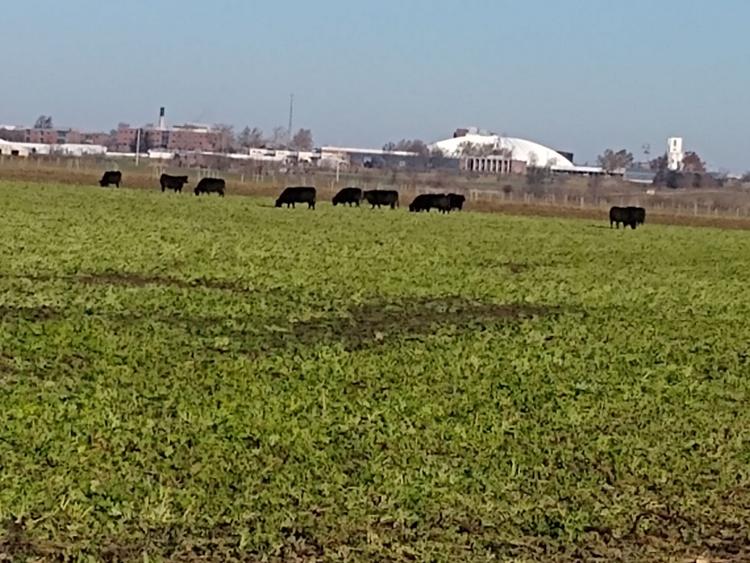 Cattle food
"My husband and I pass by the fields across from the University of Illinois Tactical building on Curtis Road frequently on our way to Meadowbrook Park. Recently, there are cows in the field eating greens that seem to have been planted for this purpose. What is this green?"
Turnips, said Professor Josh McCann of the UI's Department of Animal Sciences.
"We planted turnips as a cover crop this fall," said McCann. "They seem to like it. It won't last long but they'll enjoy it while it's there."
Daily COVID counts
"Each day, the paper reports on the number of Champaign County residents hospitalized with COVID-19, and it doesn't seem like very many on an average day. Can you give us a feel for how the number of local COVID-19 inpatients compares with the number of residents of other counties hospitalized for COVID-19 at Urbana medical centers? (And does OSF Heart of Mary Hospital treat COVID-19 inpatients, or are they all treated at Carle Foundation Hospital?)"
That information is available at the Illinois Department of Public Health website. Here's the link ...
As of Nov. 18 (the posted information is a couple days late) it showed that statewide 1,192 COVID patients were using 3,747 staffed ICU beds. (That's separate from the IDPH report Thursday that 6,037 people were in Illinois hospitals with COVID, not all of them in ICUs).
Here's the listed availability and capacity by region (the worst at that time was Region 7):
Region 1 (Rockford and northwestern Illinois): 64 available of a capacity of 189
Region 2 (Bloomington-Normal, Peoria and Quad Cities area): 118 of 305
Region 3 (Springfield and west central Illinois): 41 of 177
Region 4 (metro East St. Louis area): 28 of 122
Region 5 (southern and southeastern Illinois): 28 of 99
Region 6 (Champaign, Danville and most of East Central Illinois): 78 of 178
Region 7 (Kankakee, Joliet and far southwest suburbs): 24 of 162
Region 8 (mostly DuPage County): 133 of 431
Region 9 (McHenry, Kane and parts of Kendall, Lake and Cook counties): 104 of 247
Region 10 (parts of Lake and Cook counties): 192 of 786
Region 11 (most of Cook County): 303 of 1,050
It's worth noting that these figures change daily and are only a snapshot, not a lasting record.
Also, the OSF system refuses to disclose how many or if it is treating COVID patients.
Abandoned gas stations
"Along I-57 at both the Monticello Road exit and the Pesotum exit are remnants of gas stations that once existed. They are eyesores now that don't have a purpose. Can someone please bulldoze them? Has anyone thought of doing something to erase this blight?"
The property at I-57 and Monticello Road is owned by a West Chicago bank.
John Hall, director of planning and zoning for Champaign County, said there's some interest in that property.
"We have received some inquiries (but nothing for certain) about redevelopment of the Monticello Road exit gas station," he said.
The property at I-57 and U.S. 45 in Pesotum is owned by Jack Flash Properties LLC of Effingham. We contacted Jack Flash owners John and Lisa Wortman, who own 14 gas station/convenience stores in Illinois, but never heard back.
Country club wells
As a follow-up to last week's question about private wells at the Champaign Country Club, Champaign assistant city engineer Eleanor Blackmon noted that the water from those wells is used for irrigation not for drinking water. Other area golf courses also have wells for irrigation.