Tom's #Mailbag, Nov. 5, 2021
Questions this week about what's being done about violence in Champaign-Urbana, a perpetual motion machine in Iroquois County, Popeye's in Champaign, slow mail in Danville, a great entertainer from Urbana named Virginia Sale and products from the University of Illinois farms.
There will be no mailbag next week. Consider it a bye week.
Mayors and violence
"I am greatly distressed over our great area's exponential rise in shooting incidents and homicides. For the mayor of Champaign and the mayor of Urbana: What is your strategy to combat this horrific violence? What specific tactics are you implementing to combat this violence? Have you asked for state law enforcement assistance from the Governor's Office? Have you asked for federal law enforcement assistance from our U.S. Attorney's Office. If you have not requested assistance, why haven't you?"
Before the mayors respond let me note that the soaring numbers of shootings and homicides are occurring in virtually all urban areas, not just Champaign and Urbana. Peoria has had at least 26 homicides this year, its most ever in a single year.
Here's the response from Champaign Mayor Deb Frank Feinen:
"I share your reader's concern regarding the unprecedented levels of violence that are taking place across our community. I want to reassure our residents that the dedicated women and men of the Champaign Police Department are doing everything possible to solve these crimes and to hold those harming our community responsible for their actions. Our officers are working tirelessly and have made numerous gun-related arrests over the last year and have successfully taken dozens of illegal firearms off the streets. Our police department maintains an open line of communication with our local, state, and federal law enforcement partners related to crime and investigations and, when needed, the department will request assistance from other agencies. But law enforcement cannot be the only answer to ending this crisis. 
"A complex problem requires a complex solution, and we must continue using a multi-faceted approach, including providing new economic opportunities, workforce development, and critical support for our community's youth and families. There are far too many initiatives underway to fully explain in the small amount of space available in this column, so I'll highlight just a few and ask your readers to visit the city's website for a more complete list of what the City of Champaign is doing to combat this problem.  
"Included among the many different initiatives and programs the city is involved in and are supporting are the Champaign County Community Coalition, Community Violence Response Team, CU Trauma & Resilience Initiative (CU TRI), CU Fresh Start, Goal Getters, Crime Stoppers'  Illegal Gun Bounty Reward, Neighborhood Watch, and community-building, engagement activities like the Lovin' U Campaign. 
"In the end, it will take the entire Champaign-Urbana community working together to stop the violence. You can help by donating your time, resources or money to groups engaged in various anti-violence activities; by encouraging those in need to utilize the community support programs that are available; and for witnesses to step forward and share what they know with law enforcement or Crime Stoppers. An easy way to get started is to participate in the monthly Community Coalition meetings where you can learn more about the initiatives mentioned above and discover how you can help be part of the solution."
And here's the response from Urbana Mayor Diane Marlin:
"The city of Urbana collaborates with area law enforcement agencies as well as state and federal authorities. One place where we need more help is stemming the flood of illegal weapons into our communities. Who is selling guns? Who is distributing guns? Who is converting pistols into automatic weapons? Who is supplying guns to teens? We're also investing in long-term solutions such as youth programming, family support, mental health crisis response and housing. We work with the Community Coalition to address community violence. This week, the governor declared that gun violence is a public health crisis and pledged $250 million to the hardest hit cities to support high-risk youth intervention programs, violence prevention services, and trauma recovery services.
"I believe that C-U qualifies as one of the 'hardest hit' communities and look forward to utilizing these funds with our Community Coalition partners to tackle violence. I also believe that we must help law enforcement officials resolve cases to disrupt the retaliatory cycle of violence. I think investigative tools such as license plate readers can provide information that victims and bystanders are unable to provide. These tools can help identify people involved in shootings and other violent crimes. We owe that to the victims and their families. We need to grow peace in our neighborhoods and heal our community. "
Danville mail delivery
"Can you find out why we do not get regular mail delivery? I subscribe to The News-Gazette, therefore I should get it in the mail, however, some days I do not get it. When I call the Danville Post Office no matter the time of day, I get a recording saying the office hours are 8 a.m. to 5:30. No one ever answers the phone."
There are delivery problems at the Danville Post Office, acknowledged Sharrie Johnson at the U.S. Postal Service in Bedford Park.
"The Postal Service appreciates its customers and always strives to provide the best possible service to them. We apologize for any inconvenience that may be experienced by customers in the Danville area. Some Danville customers may receive mail every other day as we match the workload created by the impacts of the ongoing Coronavirus (COVID-19) pandemic," Johnson said. "We appreciate the patience of our customers and the efforts of employees as conditions change on a day-to-day basis.
"Customers can also go to our website usps.com and click on 'Contact us' at the bottom of our homepage, or utilize a direct web address. Every email will be carefully documented, and appropriate action taken to strengthen service. I hope this helps. Thank you for your inquiry."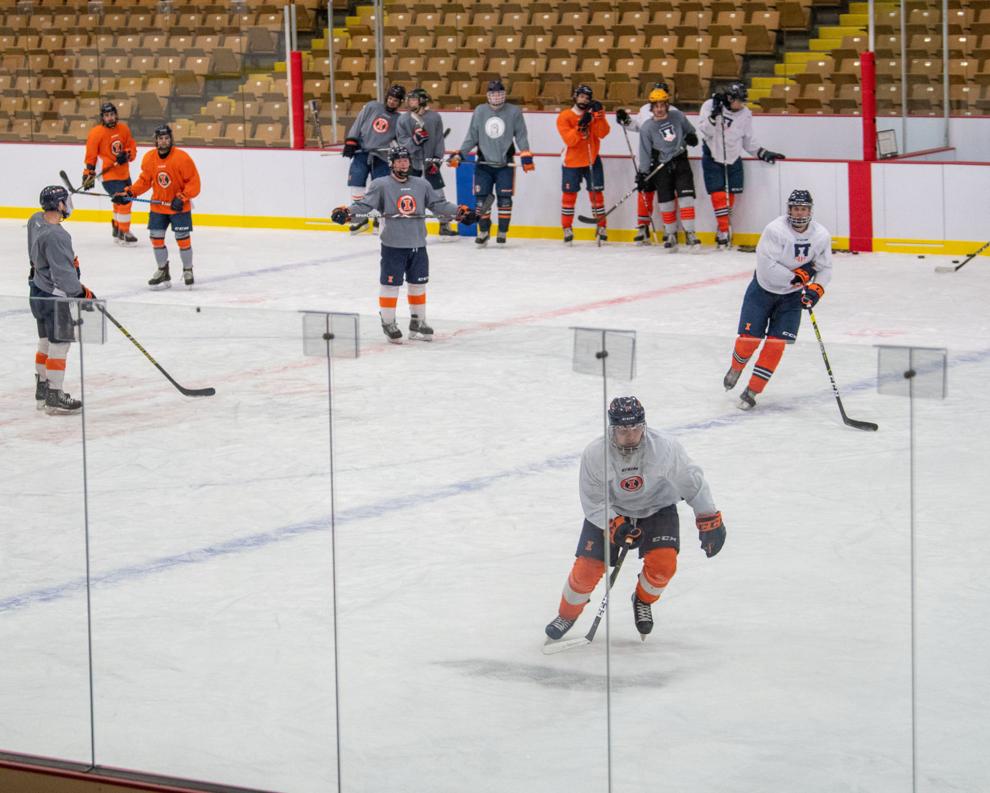 Hockey arena update
"The Illinois Terminal recently sent out an update on its portion of The Yards project (in downtown Champaign) stating that they plan on moving forward with their half of the project. I'm wondering if there's any updates on the hockey stadium and if they intend on moving forward anytime soon."
About two months ago Illinois athletic director Josh Whitman told reporters he has "restarted some of those conversations" regarding a hockey program and a hockey arena at Illinois.
"This was an idea that obviously was very much front of mind for us for a number of years. When the pandemic hit, that conversation moved very quickly to the back burner when we left it until just recently when we reopened some of those discussions with all of the different stakeholders," Whitman said. "We just want to get a sense of the room in how their worlds have changed as our world has changed, and is there still an appetite to undertake this project? That's an ongoing conversation now."
Whitman didn't offer a timeline on decisions regarding taking hockey from a club sport to an athletic department program at Illinois.
"It was a pretty complex conversation before," he said. "I would say it certainly hasn't gotten any simpler in light of the pandemic."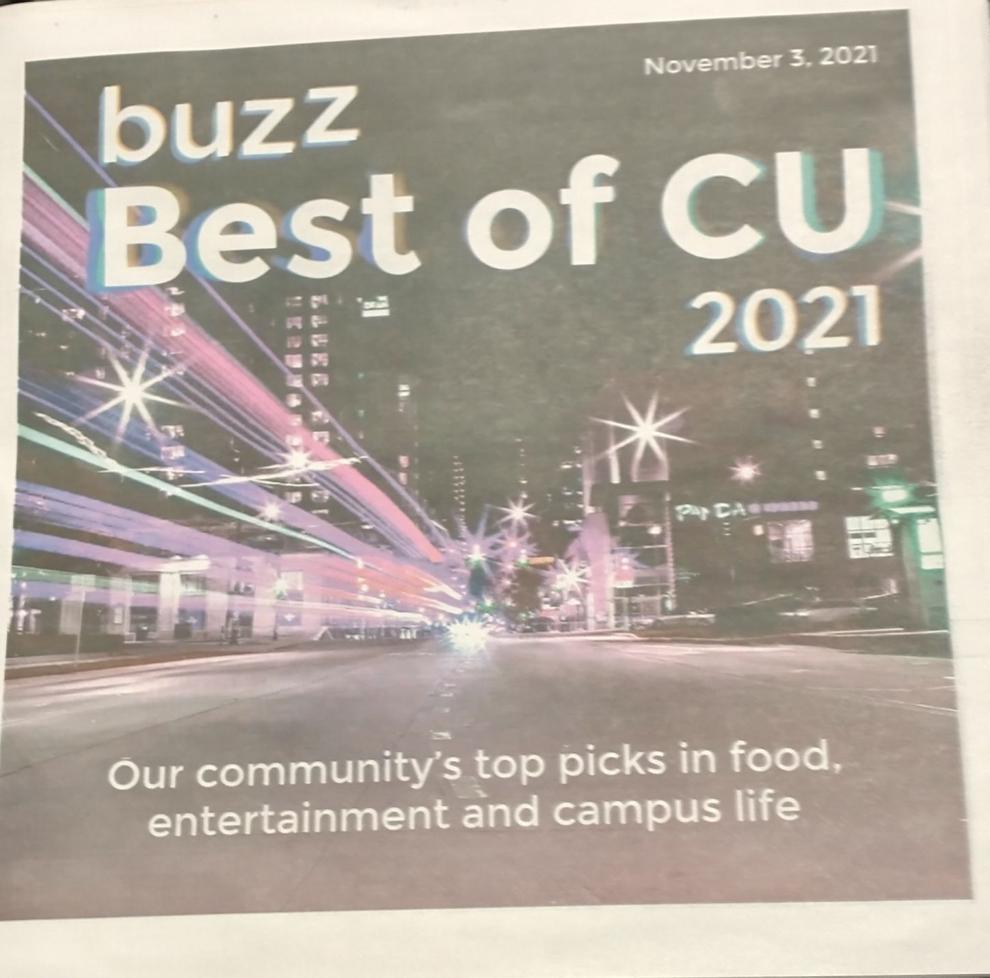 Daily Illini in print
"Has the Daily Illini discontinued its print edition (which to my knowledge was down to a once-a-week on Wednesdays)? The display boxes in front of their former offices on Green Street, on John Street just west of Wright, on Daniel just east of First have been empty and not stocked for over a month, and the Champaign Public Library's most recent copy is the Homecoming Edition, again several weeks ago."
The Daily Illini still publishes a print edition on Wednesdays.
Jordan Dziura, the executive director of Illini Media, said the DI is distributed to 112 points in and around the University of Illinois campus. Sometimes its carriers may have problems delivering the papers, or the supply may be exhausted. Dziura said he would look into the issue.
Arrests in shootings
"I noticed in the presentation of the Champaign Police Department's and the Urbana Police Department's request to adopt automated license plate readers, both presentations only presented half of the problem. That is, of those incidents of shots fired and homicides the Mailbag published last week, how many arrests have there been and how many of the incidents of shots fired and homicides have gone unsolved?"
Champaign County State's Attorney Julia Rietz said she last did a complete review of "shots fired" reports from local police agencies in July.
"Between Champaign Police Department, Urbana Police Department, Champaign County Sheriff's Office and University of Illinois Police Department, there have been 200 "shots fired" reports from 1/1/21 through 6/1/21," said Rietz. "The (state's attorney's office) has received and reviewed reports in 25 of those cases.
"One of those 25 has been charged federally. Two are pending further investigation. Criminal charges have been filed in the remaining 22. The other 175 remain under investigation and have not been sent to the (state's attorney's office)  for charging due to lack of sufficient evidence and/or lack of identification of a suspect."
UI farms
"Are all the UI fields being used for internal use such as research, animal fodder, demonstration or is some of (the product) sold?"
"Crops and livestock from the University of Illinois South Farms help feed people on and off campus, according to the experts at the College of Agricultural, Consumer and Environmental Sciences (ACES)," said Laura Mabry, executive director of marketing and communications at ACES.
Here's a sampling, including how you can partake:
— Student workers and volunteers plant, cultivate and harvest produce using low-input and organic practices at the Sustainable Student Farm. Before winter sets in, anyone can purchase produce from 11 a.m. to 4 p.m. Thursdays on the university Quad.
— The Department of Animal Sciences runs the Meat & Egg Sales in the Meat Science Lab. Customers enjoy raised-on-campus fresh and frozen meat, bacon, sausage, eggs, and more via curbside pick-up several times a week.
— The Illinois Sustainable Food Project is a collaborative effort of the Department of Food Science and Human Nutrition (FSHN), the Department of Crop Sciences and University Housing Dining Services. Grain and produce grown for research, teaching, student initiatives and local collaborations are processed by students in the FSHN Pilot Processing Plant into products served in university dining halls. Food products include tomato sauces; hot sauces; grain and flour; purees, jellies and jams; beverages and more.
— Products from the South Farms also make their way into meals, snacks, and desserts at Bevier Café, which serves as a training laboratory for FSHN students.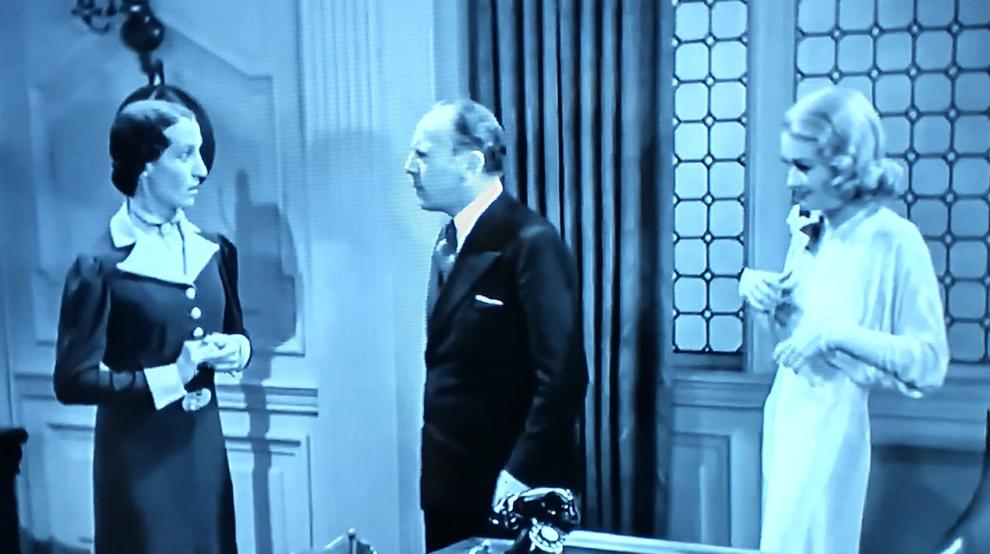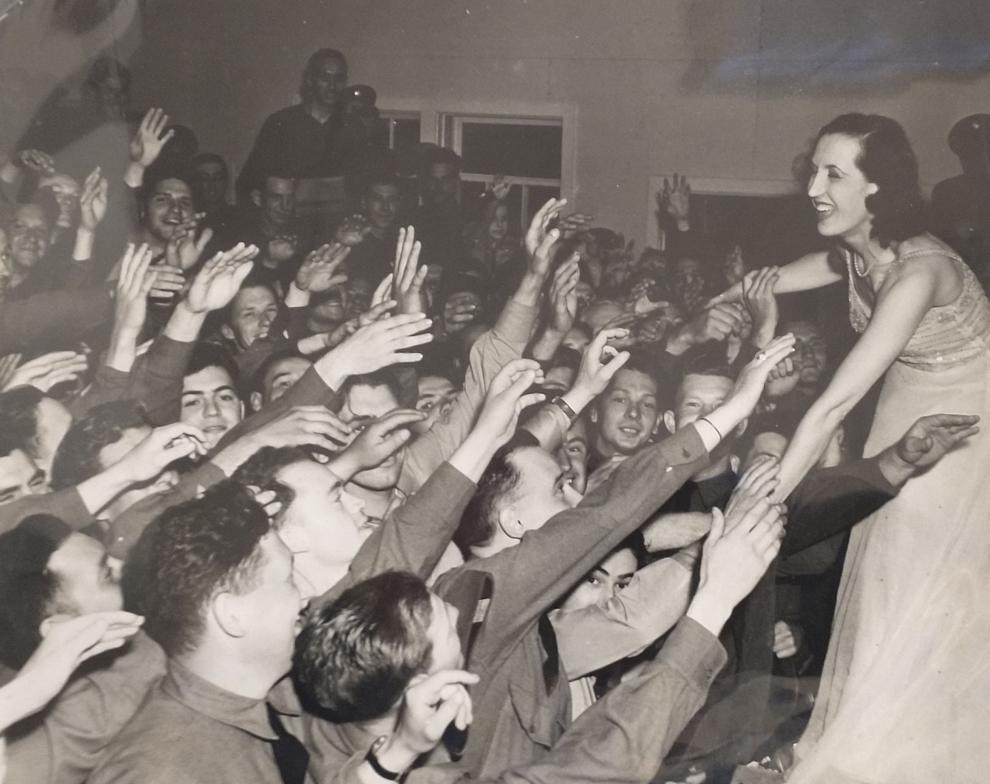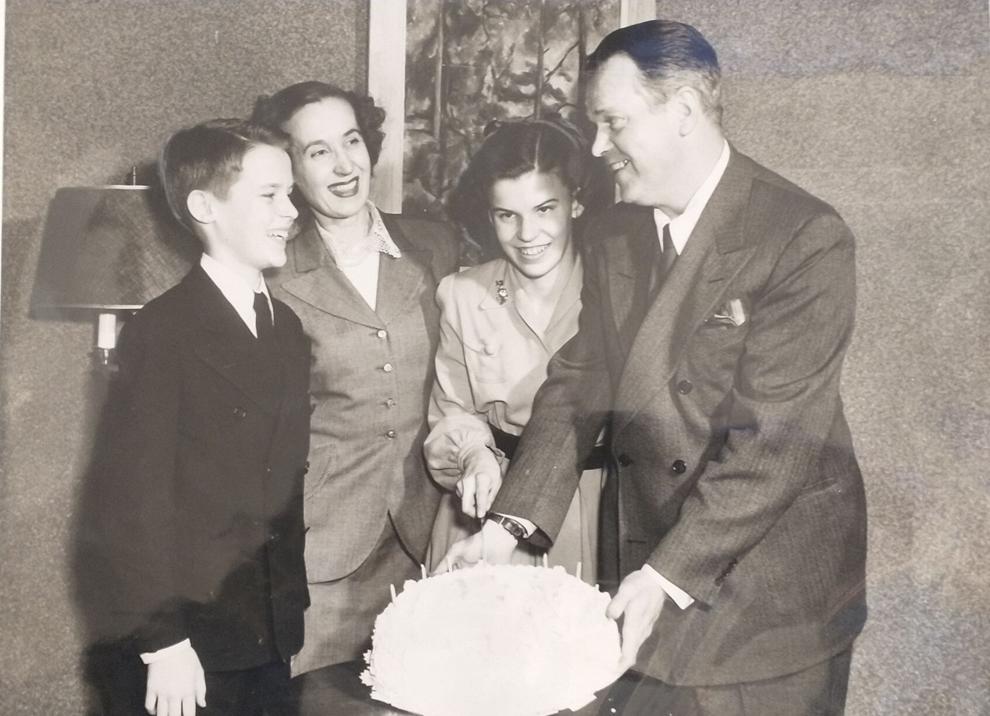 Urbana's Virginia Sale
"Recently read about an actress with ties to Champaign. Thought about Virginia Sale who I think I read did a cross-country, one-woman show about growing up in Urbana. Can you give us any details?"
Yes, Urbana native Virginia Sale had an amazing, six-decade, multimedia career in show business, starting in 1927 in the silent film "Legionnaires in Paris," and concluding in the 1975 television series, "Police Woman."
As you noted she also performed across the country and in Europe during World War II in a one-woman show called "Americana."
She did an estimated 3,000 of the shows in 15 years, making her own costumes for as many as 20 changes and 22 characters. (The Urbana Free Library has a copy of some of her monologues in its archives).
Sale also performed in radio, acting for eight years in the serial, "Those We Love."
She was a bit of a pioneer in television, starring in 1949 with her husband and two children in what is believed to be the first family sitcom ever on the ABC Television Network. Titled "Wren's Nest" (her husband was Sam Wren), it ran in 15-minute episodes three times a week from January through April 1949.
But Sale is probably best known for her film career, which is preserved in old movies seen virtually ever day. She appeared in more than 110 motion pictures, generally in small roles, such as in 1937's "Topper," in which she played banker Cosmo Topper's prim secretary.
The movie website IMDb characterized Sale harshly: "Hatchet-faced American character actress who played hundreds of minor parts on film, radio and TV over the years, mostly spinsters and other old crones."
Harsh yes, but true. In "Topper," for example, Sale played a woman who looked to be in her 50s or 60s yet she was only 38 at the time.
She also appeared in, among others: "Moby Dick" 1930, "Oliver Twist" 1933, "Charlie Chan in Reno," 1939, "They Died With Their Boots On," 1942, "The Thin Man Goes Home," 1945, "How to Succeed in Business Without Really Trying" 1967 and "Slither" 1973.
She also appeared on numerous television shows including "The Kate Smith Show," "The Garry Moore Show," "Petticoat Junction," "Green Acres," "The Beverly Hillbillies," and "The Andy Griffith Show." 
Sale, who was born in Urbana in 1899, died in Woodland Hills. Calif., at the Motion Picture and Television Country Home. She was mentioned in a 1983 Time magazine story about life among faded film stars at the retirement home. She is buried with her husband Sam at Arlington National Cemetery. He was a veteran of World War I.
In 1938 Sale wrote to the Urbana Half Century Club about her childhood in Urbana, where she was the youngest in a family of four children. Her father was a dentist whose office was at Main and Races streets. Her mother was the truant officer for the Urbana school district.
"I have always felt that anyone who was born and lived in Urbana was very fortunate," she wrote. "It's the loveliest town I have ever known. My husband, when he was there for the first time, told me, "I'm so glad you grew up in such a beautiful town. It's a Booth Tarkington town.
"In my day it was wonderful. No one locked their doors. They didn't need to. Everyone was wonderful to everyone else. Everyone went to church. There was no booze. Anyone who wanted liquor had to take the interurban over to Danville, if they wanted hard liquor."
Her mother, she said, "was an ardent member of the Women's Christian Temperance Union" which erected a statue at the corner of Springfield Avenue and Main Street where people and dogs could enjoy a drink of cold water.
"The ladies later found out that the Elks Club," which had its offices in the Flat Iron Building at the corner, cooled its bottles of beer in the fountain, Sale said.
She spent her first year of high school at Thornburn School, which was demolished about 40 years ago, and then moved to the newly completed Urbana High School "way out south of town. We all thought it was great, but it was a long way to walk."
She was able to attend the University of Illinois on a  scholarship.
"A great friend of mine in high school was Thelma Strabel, who was not very popular but I enjoyed her," Sale wrote. "In our senior year, she said, 'Let's write exams for scholarships to the University of Illinois.'
"I said, 'I can never pass.' She said, 'We'll study hard and maybe we will pass.'
"So we did study hard and by golly we both passed. You see every county in Illinois had two scholarships to give out and when some counties don't use them they're shipped back to Urbana to use. So Thelma and I had free scholarships to the U. of I. for five years."
She attended Illinois for two years, before transferring to the American Academy of Dramatic Arts in New York, from which she graduated.
Popeye's red card
"Do you know why Popeye's on Bloomington Road was closed?"
A routine inspection of the store was conducted on Oct. 25. A number of violations were observed, including a non-functioning hot water faucet at the store's drive-thru. A temporary hand washing station was established but the business was ordered to have the hand sink repaired within 24 hours.
By 2:30 p.m. the next day, "no correspondence from the district manager was received," the public health inspection report said. "The inspector conducted a follow up visit to the facility and spoke to the on duty manager again.
"She stated that the district manager told her to 'operate the kitchen like normal' and that he 'didn't care,' so staff continued normal operations despite the inspector's instructions. The inspector observed the drive thru drink station and the previously restricted food prep areas being utilized by staff for food service. Shortly after the inspector's arrival, the district manager arrived at the facility.
"Due to an imminent health hazard secondary to inadequate hand washing, the food service permit was suspended at 1451 hours on 10/26/21 and a red 'Closed' placard was posted at the facility, which shall remain posted until the facility has been re-inspected to verify compliance."
The restaurant was reopened two days later.
"A follow up visit was conducted and the inspector verified the hand sink had been replaced and functioned properly," the Oct. 28 inspection report said. "The hand sink provided adequate hot and cold water and was stocked with soap and paper towels. At approximately 1330 hours on 10/28/21, the permit was reinstated and all applicable reinstatement fees were paid."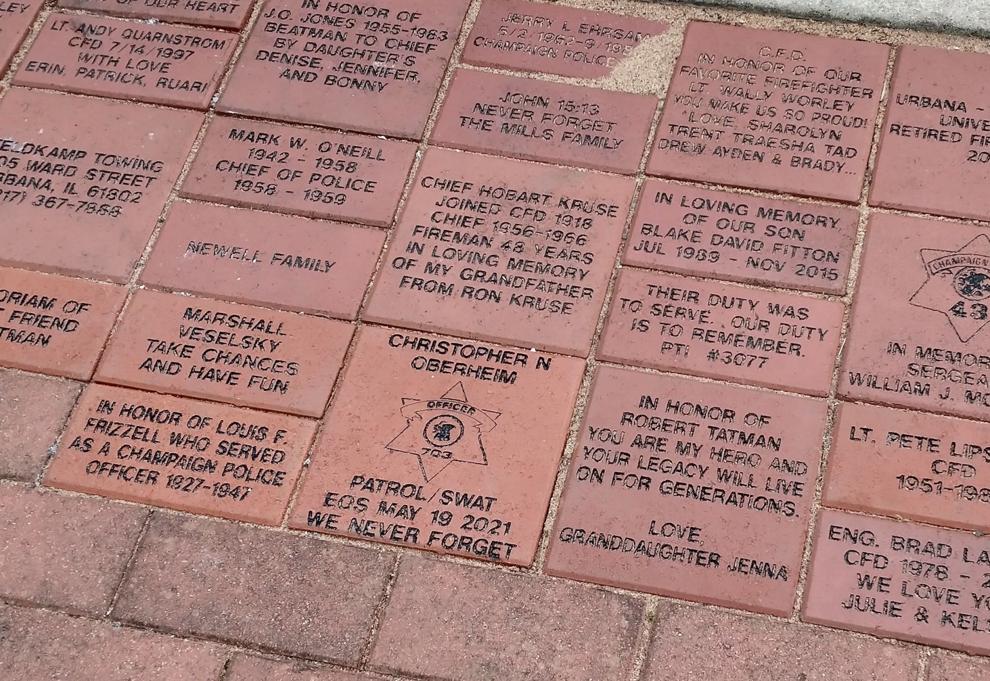 Police, firefighter memorial
"On Sept. 28, 2010, I attended a dedication of a police and firefighter memorial in West Side Park. It was on the corner of State and Church streets. I also purchased a memorial brick. What has happened to this?"
The memorial is in place at the northeast corner of West Side Park. There are about 200 memorial bricks as part of the tribute, the most recent a testimonial to Champaign Police Officer Chris Oberheim, who was shot to death on duty on May 19.
ESPN Radio programming
"Has 93.5 FM downgraded to a cheaper ESPN radio feed? I've heard the same interview with the 1993 Heisman Trophy winner Charlie Ward at least seven times in the last two weeks during the 8 p.m. hour. Baffling."
"When there are priority play-by-play broadcasts that ESPN offers in various sports and we don't choose carry them they tend to rerun shows over and over," said 93.5 station manager Stevie Jay. "We'll study this some more and figure out how to carry more of their 'live' games if they continue to repeat the alternative programming."

MTD's solar system
"I wonder why the CUMTD boasts of having a 'Solar Powered Hydrogen System' when it's currently being powered by Prairie State Energy, a coal-fired plant. Do they have a date by which these buses will actually 100 percent paid for by solar energy?"
"Thanks for the well-researched question," said Karl Gnadt, managing director of the Champaign-Urbana Mass Transit District. "You are correct that the Hydrogen Production Station is currently being powered from the grid. While being 100 percent renewable is important, the most important thing is for us to be able to provide our service.
"We've said all along that the timing of the various phases of construction couldn't line up exactly, primarily because of the timing of funding availability and the pandemic. The solar array's construction is under way and the first set of panels are currently being installed. Winter weather will slow the installation and construction down, but we are currently scheduled to bring the array online in the spring.
"Incidentally, the Hydrogen Production Station was designed from the get-go to be able to use power from the array and the grid. This creates redundancy so that we can always produce the hydrogen and prevent any service interruptions. While we intend to always use the solar energy, we know that sometimes things go wrong. So the grid is our backup. And since the timing of the various phases didn't line up perfectly, we are using that planned backup for now."
Advanced Disposal
"I've contacted Advanced Disposal several times over the past couple of months about picking up the empty garbage & recycling totes at the edge of my lawn (service discontinued at the beginning of September). I've called them several times to inquire about pickup and they continue to tell me they will pick up but never do."
The city of Champaign also has received a number of complaints about Advanced Disposal, said Nichole Millage, Champaign's environmental sustainability specialist. Those were forwarded to the Waste Management office in Decatur. (Waste Management acquired Advanced Disposal).
Millage said that she was told the company is short-staffed and is working as quickly as possible to retrieve unwanted bins and totes. She suggested calling Tamyra Myers at 217-330-5442 or emailing her at tmyers5@wm.com.
Perpetual motion machine
"Several years ago The News-Gazette featured a company in Gilman which was building a perpetual motion machine. I was wondering if they succeeded."
The project was discontinued upon the untimely death of the owner/inventor of the device, Dr. Renato Ribeiro, said an employee at Incobrasa Industries Ltd., a Brazilian-based soybean processing and biodiesel manufacturing company in Gilman.
Ribeiro, an economist, businessman and newspaper and television station owner who died in 2019, sought a patent for his device in 2012 but apparently abandoned the effort a year later.