Submit your question by clicking here
The Mailbag staff got around this week, answering questions about Champaign, Urbana, Rantoul, Danville, Tuscola and even a restaurant chain in Texas.
Also, answers to questions about recycling pumpkins, a temporarily closed restaurant in Campustown, write-in candidates, noise from the Champaign Kraft plant and flashing yellow arrows at intersections.
Happy Halloween, kids. Stay safe and vote early, adults.
Local postal service capacity issues
"Smile Politely posted a story about mail sorting equipment being removed or dismantled this year after Postmaster General (Louis) DeJoy stated he would cease this practice. Was the equipment put back into operation in Champaign?"
"With a record number of people across the country voting by mail, the U.S. Postal Service's number one priority between now and the November election is the secure, timely delivery of the nation's Election mail," said Kimberly Caldwell-Harvey, spokeswoman for the postal service's St, Louis-based Gateway District that includes Champaign-Urbana.
"Regarding the removal of mail sorting machines, we are aware of one machine removed from processing earlier in the year prior to the directive to cease any machine removals during election season. The Postal Service has more than sufficient capacity to process current and anticipated election mail volumes with the existing machine supply. We are aware of no capacity issues in our Champaign plant and continue processing and delivering election mail, including ballots, as it is presented. The 630,000 women and men of the postal service are fully committed to our longstanding role in the electoral process, and we are actively working to deliver in this election season."
Urbana mail deliveries
"The past two days I have received large mail deliveries twice a day. Is this a result of the judge's order mandating that the USPS catch up on deliveries?"
Nope, says Caldwell-Harvey.
"The Postal Service is not making regular mail deliveries twice a day in Urbana," she said. "Sometimes there are separate parcel deliveries in addition to regular mail delivery."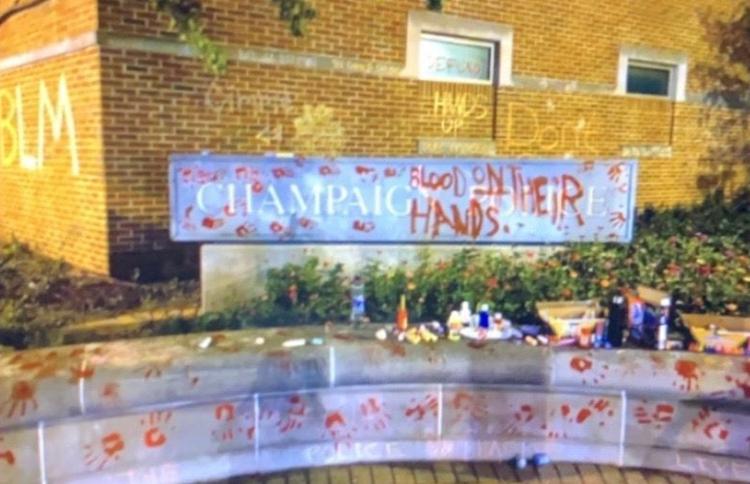 Graffiti incident at police station
"Is the case officially closed on the 'graffitti' incident at the Champaign Police Building or is there still a chance we could see charges against some of the protesters who were responsible?"
Champaign County State's Attorney Julia Rietz said she has not received reports from the Champaign Police Department about the incident and doesn't expect to.
"I do not think they ever identified anyone who painted on the building. If they did send it to me I likely would return it and suggest they consider city ordinance violations as they have ordinances to cover these situations, as I did with the Rogue Barbershop reports," she said of the incidents last summer where protestors chalked the sidewalk and building outside the barbershop.
It was targeted by protestors after announcing on its Facebook page that it was a "private membership traditional barbershop (not unisex) not open to the general public" and would require prospective members to fill out an application that allegedly asked whether they are a member of any "violent extremist groups" such as antifa or Black Lives Matter.
Champaign Police spokesman Tom Yelich provided the following response.
"Without new information I anticipate this investigation will be administratively closed. Although we are aware of individuals who were present that evening, we are unable to conclusively determine who was directly responsible for the physical act of vandalism. We appreciate everyone in the community who condemned this act and shared their support with us in the days that followed."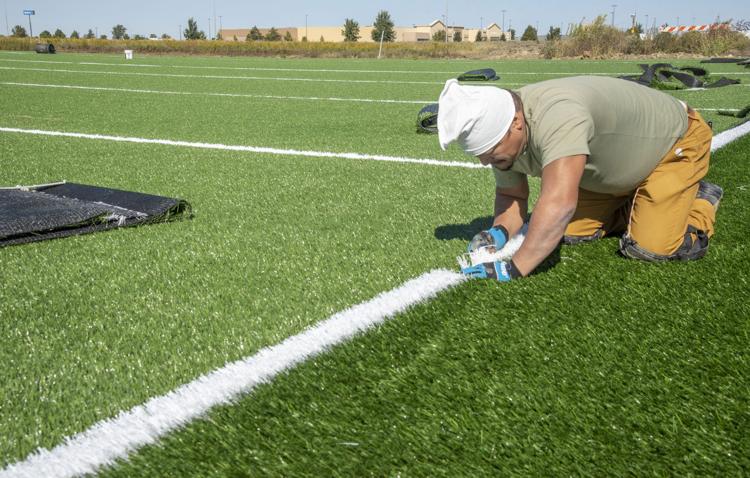 Road improvements near Rantoul sports complex
"The Murray Road Extension south end of Rantoul is very narrow and has a good amount of traffic. It is becoming a dangerous road. A bicyclist was hit a couple days ago. With the sports complex planing on opening in the spring will the county do anything to widen?"
It is not a county road, said Champaign County Engineer Jeff Blue. But the village of Rantoul is looking at improving the road, said Village Administrator Scott Eisenhauer.
"The recent incident was extremely unfortunate and reminds us all to drive and ride defensively and be aware of our surroundings," he said. "The Village accepted the portion of Murray Road south of 2900N to 2800N in an intergovernmental transfer a few summers ago.
"As this region of the community further develops, improvements to the roadway and infrastructure are anticipated and will be required. Long range plans envision this roadway being expanded and improved to a 80,000 pound roadway. As the amenities at and around the Sports Complex develop, new recreational and transportation trails and bike paths are likely to be incorporated.
"While local residents tend to utilize this roadway as a more direct route to their shopping and work destinations, the existing multi-lane U.S. 45 and U.S. 136 offer an option for local and semi-truck traffic."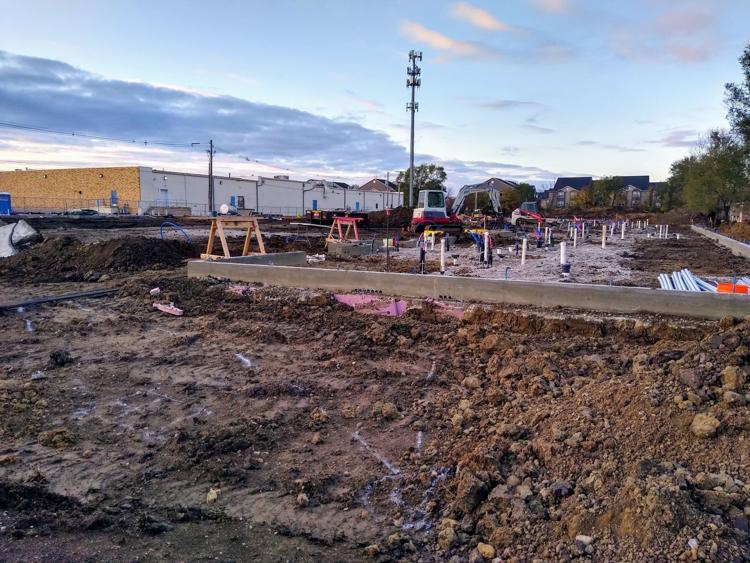 East Urbana housing project
"In passing through the Philo Road shopping district, I noticed a large construction project underway just east of the CVS drug store, and it extends all the way behind the indoor storage business (the old Eisner grocery store) just north of CVS. Do you know what is being built?"
That will be Pinewood Place, a supportive housing development with 24 one-bedroom units in four separate buildings for individuals with special needs. Preference will be provided to mentally, developmentally and physically disabled individuals with no income who are pending approval of Social Security benefits.
Tenants will have an in-unit washer and dryer, dishwasher and microwave in addition to the stove and refrigerator.
Additional site amenities include an on-site office for case management services, and a community room with computer stations and a community kitchen.
The project was part an intergovernmental agreement between the city of Urbana and the Housing Authority of Champagn County.
Ice skating possibilities
"Since the University of Illinois Ice Arena is 'closed until further notice,' where else can we go nearby to ice skate?"
Replacement of the 40-year-old ice system at the David S. Palmer Civic Center in Danville has been under way, said administrative assistant Tracie Phelps. 
And the hope is that the they can begin putting down ice in November and reopen the arena to ice skating and hockey in December.
"We hope and pray so," said Phelps.
Once reopened you can skate at the civic center for $5 with a $1 skate rental fee.
There also is public skating at the Decatur Civic Center and the Bloomington Ice Center.
COVID measures in courthouses
"I have heard that in some nearby counties, namely Douglas County and Coles County, many of the courthouse officials are not wearing masks while in confined spaces and working with the public. I'm wondering if Tom's Mailbag can find out whether people in the Coles County Courthouse and the Douglas County Courthouse have been wearing masks while working in courtrooms and offices this month?"
I did not visit the Coles County Courthouse but I did go to the Douglas County Courthouse in Tuscola and for the most part they were abiding by best practices for keeping COVID in check.
Court security officers on the first floor and third floors were wearing masks. On the second floor where in-person early voting was going on, county clerk's office employees wore masks and were urging masked voters to stand 6 feet apart. A sign on the door at the county treasurer's office said that masks are required. But employees in the circuit clerk's office and the county clerk's office were not wearing masks.
The New York Times reported Friday that Douglas County has the highest per capita incidence of COVID in Illinois in the last week.
Recycled pumpkins
From Penny Gioja of rural Champaign:
"You had a question last year about what to do with pumpkins after Halloween. We are happy to take them again for livestock to eat. Cornstalks, Indian corn and other edible decorations are welcome.
"They should be left in the grass along the road in front of the play yard at Joy of Illinois Farm, 1689 CR 400 E, Champaign, IL 61822.
"To get to the farm, from Parkland College go west on Bradley Avenue for 5 miles, then turn left (south) at 400 E (a dead end). The farmstead is the only habitation on the dead end."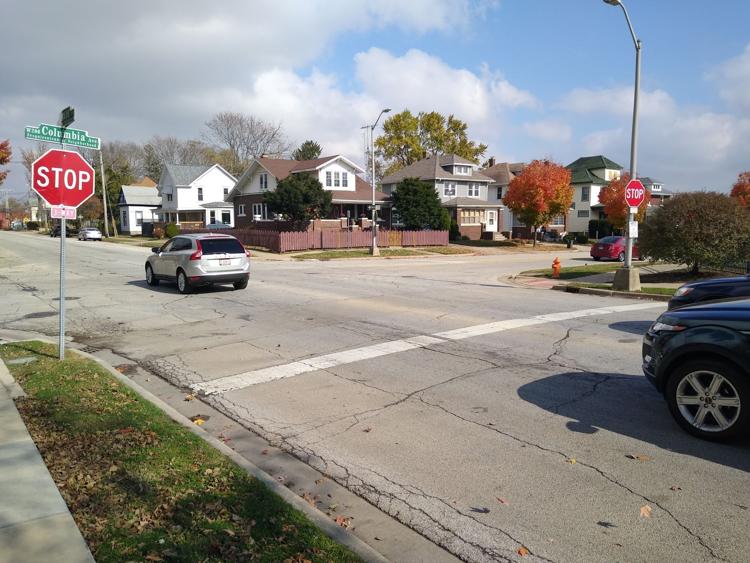 Unneeded stop sign?
"Why is there a stop sign for northbound traffic at the intersection of North Randolph Street and West Columbia Avenue? Its unintentional main effect is to space out traffic so that pedestrians crossing Randolph north of that intersection often encounter alternating cars that make it impossible to cross, even in light traffic, with no nearby marked pedestrian crossing. There is no corresponding traffic signage for southbound traffic nearby on North State Street, so it doesn't seem to have been deemed essential in the other direction."
"The short answer is there was a significant crash history for this particular intersection back in the 1980's and an all-way stop was installed," said Champaign Public Works Department spokesman Kris Koester. "The amount of traffic here could be related to the proximity to Neil Street, Washington Square apartments, and other factors. No significant crash history has been reported at the intersection of Columbia and State."
Koester included a 1986 report to the city council that highlighted 41 crashes at the intersection in a three-year period with the majority being from east/westbound traffic crossing Randolph.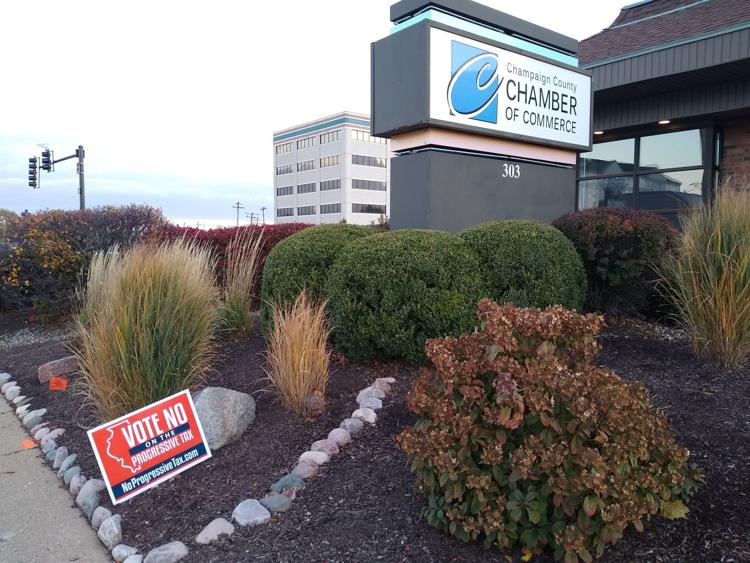 Chamber of Commerce advocacy
"Outside the Champaign County Chamber of Commerce Building on Kirby there is a sign advocating for a 'No' vote on the ballot measure regarding the proposed 'Illinois Allow for Graduated Income Tax Amendment.' I was under the impression that their non-profit status forbid this type of activity? Was this approved by the businesses they represent or done with their knowledge?"
"Thank you for the question," said Laura Weis, president and CEO of the Champaign County Chamber of Commerce. "The majority of chambers of commerce are organized as 501c6 not-for-profit business leagues/associations. We are not a charitable organization. This status allows us to advocate for issues that will impact the business community.
"Organizationally, we have a set of Guiding Statements (which are reviewed every couple of years by our members, committees and board). We use these Guiding Statements to help determine if and when we might become engaged in an issue. When a potential issue is on our radar or brought to us by a member, very often we will poll our membership first for feedback. Issues are then vetted by a committee and a recommendation is sent to the board of directors who then discusses and weighs the issue against our Guiding Statements.
"We represent almost a thousand businesses who employ 59K+ residents. We understand that we will never have 100 percent agreement on issues and this is why we rely on several tools to help shape our platform. We strive to always represent the interest of the business community to the best of our abilities."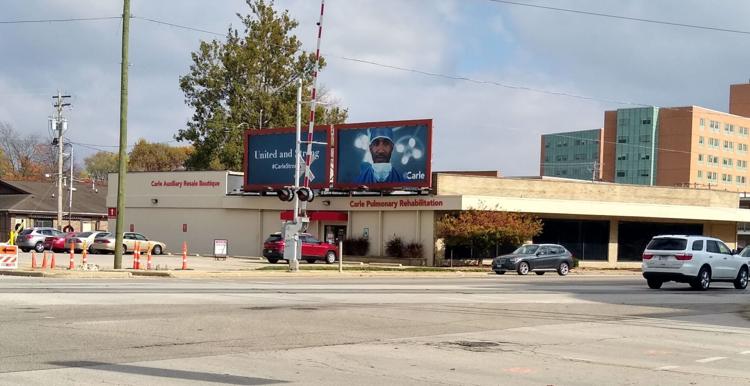 Carle plans at University & Lincoln
"What are Carle's long-range plans for the northeast corner of Lincoln and University?"
"We are always evaluating our facilities and how we can best meet the needs of the community," said Carle spokesman Kaleb Miller. "At this time, our intent is to maintain our existing facilities such as the Carle Auxiliary Resale Boutique, The Caring Place at The Carle Foundation, and Carle Auditory Oral School."
Public meeting places
"Is there any list of public places with rooms that would be safe, suitable, and available for groups of 5-10 people to meet with masks on for things like book clubs?"
Your best bet appears to be the Champaign Public Library.
"Yes, our meeting rooms can be reserved and have limited capacity of 6 to 16 people depending on the size of the room," said library director Donna Pittman. "We ask that people call us at 217-403-2000 to reserve a room, that way staff can explain the new requirements for meeting here and how many people each room can accommodate."
The Urbana Free Library is not reserving rooms for that purpose, said director Celeste Choate.
The Champaign Park District is only offering indoor rentals for groups of 10 or less on a case-by-case basis for the party room at the Leonhard Recreation Center, said Jarrod Scheunemann, assistant to Executive Director Joe DeLuce. "Additionally, food is not allowed at this time. Indoor rentals at the park district's other facilities remain closed, however, a waitlist for indoor rentals has been established for the future."
Tim Bartlett, executive director of the Urbana Park District, recommends contacting the Phillips Recreation Center and/or the Anita Purves Nature Center to rent space at either facility.
"Each facility has rooms for small group activities to accommodate the 5-10 people as requested. Rental space at the Lake House is also available and will accommodate a somewhat larger group and meet the Center for Disease Control (CDC) guidelines for a small group gatherings.," he said. "Lastly, Brookens Gymnasium could be also be available for rent for mid-sized group activities. Staff recommends checking with CDC and/or our local Champaign County Public Health Department (CCPHD) for the latest information and recommendations on hosting public events."
UI tennis questions
"I have three questions about the Illinois tennis team: Will the general public be able to watch the men practice? Will there be any form of Big Ten competitions this year? What is the word on the new recruit Hunter Heck?"
Kent Brown, Illinois' associate athletic director for media relations, has your answers: "For the time being, men's tennis practices are closed to the public. We are hoping to have schedules and competition plans for all the remaining sports soon. The men's tennis coaches and administrators have been meeting, and will continue to plan for a spring championship season. Once approved, the schedules will be released to the public, but it could look quite different than past years in terms of travel and who the opponents will actually be.
"Freshman Hunter Heck is on campus, going to class (for those that aren't virtual) and practicing with the team."
More bad news for restaurants
"By now it's perfectly obvious that the Golden Corral folks are the Gang That Can't Shoot Straight when it comes to offering casual dining options for Champaign-Urbana. Any word on whether Golden Corral arch-competitor Luby's will give North Prospect a go and sweep up the money Golden Corral is leaving on the table (so to speak) in this market?"
That's not going to happen. Texas-based Luby's announced last month that it is liquidating all of its assets and returning cash to shareholders.
Luby's Cafeteria, which dates to 1947, also includes the Fuddruckers restaurants.
For those who don't seem to comprehend the stress facing the restaurant business nationally, Luby's restaurant sales fell 75 percent in the quarter ending June 3 compared to the same period last year. At Fuddruckers the drop was 90 percent.
"Our stockholders have expressed their support for seeking alternatives to continuing to operate the company's restaurants in their current form, and we believe the (liquidation plan) will allow the company to accomplish that task in the most efficient manner," they added. Stockholders must approve the plan before it moves forward.
Luby's President and CEO Christopher J. Pappas said the company is "preserving the flexibility to pursue a sale of the company should a compelling offer that delivers superior value be made."
There are more than 60 Luby's in Texas plus one each in Mississippi, Arkansas and Oklahoma.
Write-in candidates
"A week ago, I requested a list of write in candidates from (Champaign County Clerk Aaron) Ammons office. I have yet to receive any list back. Is there some reason this list isn't simply posted on the website, and how long should it take for them to actually reply? I would like it before the election."
The list is on the county clerk's website.
It includes the following write-in candidates:
PRESIDENT
Barbara Bellar, 8513 Johnston Rd, Burr Ridge, IL
Todd Cella, 1195 E 3125 N Layton, UT
Mark Charles, 1100 Queen St NE, Washington D.C.
John Farney, 1489 Country Rd 1800E, Urbana, IL
Chris Franklin, 251 Falls Rd, Hampton, TN
Shawn Howard, 20758 Torre del Lago St, Estero, FL
Joseph Kishore, 26677 W 12 Mile Rd, Southfield, MI
Jade Simmons, 26055 N Kings Mill Ln, Kingwood, TX
Kasey Wells, 120 S Vine St, Lexington, IL
Andy Williams Jr, 7343 Tennessee Dr, Willowbrook, IL
U.S. SENATE
Lowell Martin Seida, 10310 Bond St, Westchester, IL
Champaign rail traffic
A followup from mailbag reader Terry Shearer about last week's question about rail traffic in Champaign: "Concerning the railroad track along West Springfield, there is a (switch engine) that goes out there six days a week (Sunday off)."
He said it goes out to deliver loaded cars (and pick up the empty cars) at Plastipak Packaging, Prairie Materials and other industries west of Prairie Gardens. It also works at Kraft Heinz setting out and picking up cars.
Flashing yellow turn arrow
"Could you please ask why the left turn arrow on the Prospect Street stop lights do not go from a green arrow to a flashing yellow arrow? Several area towns have lights with this feature and North Prospect could certainly benefit from this feature. There are several times that I am waiting to turn left, and there is no oncoming traffic but the left arrow has turned red while the other lights for forward traffic is still green."
Kensil Garnett, Region 3 engineer for the Illinois Department of Transportation, said that the segment of University Avenue through Urbana that is undergoing a multimillion-dollar rehabilitation will have flashing yellow arrow (FYA) lights.
"We also plan on installing FYAs on Prospect Avenue (from south of the I-74 ramps to north of Springfield Avenue), but this project is in the very early stages of design," he said. "Any chance we get to upgrade signals on the state system will get the signals changed over to FYAs. Mast arm foundations and mast arm lengths are the biggest factors to switching over to the new FYA signal heads."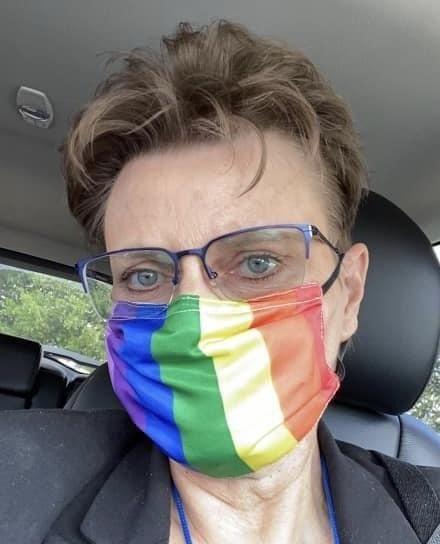 Julie Pryde, masked
"There was a question last week about pictures in The News-Gazette of people not wearing masks. We often see a picture of Julie Pryde, who is regularly telling people that they have to wear masks. Shouldn't a person in her position lead by example, and provide a picture of herself with a mask on?"
Pryde, the administrator of the Champaign-Urbana Public Health District, said she was happy to send a photo of herself masked.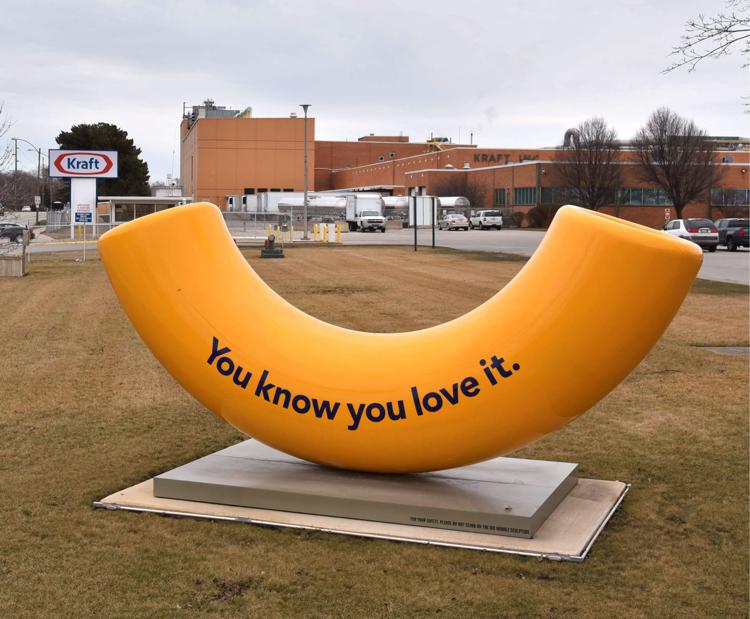 Still noisy at Kraft plant
"The (Champaign) Kraft factory constant 'whooshing' sound, discussed in your May Mailbag, has yet to be fixed. Is there any response from Kraft Heinz regarding the noise? I fear Kraft Heinz would rather normalize the sound for nearby residents than actually fix the issue."
Kraft Heinz spokeswoman Lynne Galia said a muffler will be installed on the exhaust system, probably in December.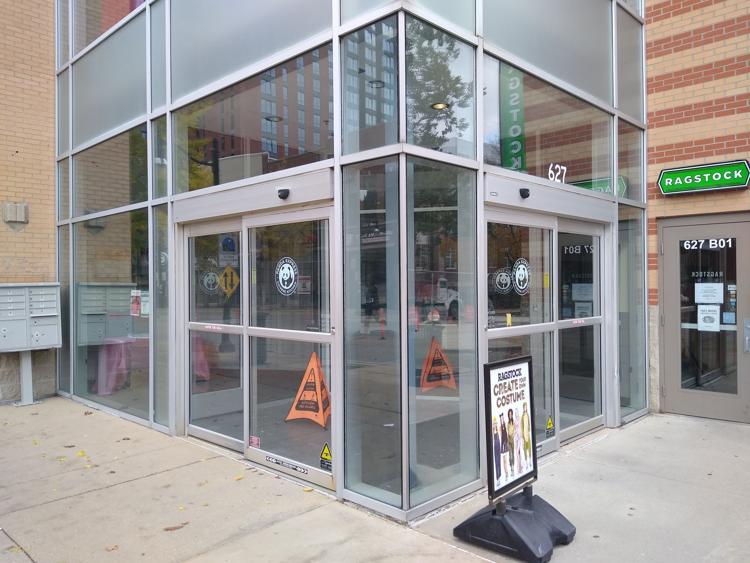 Campustown Panda Express
"Will the Panda Express ever reopen in Campustown on the corner of Green and Wright?"
Oddly there is no signage about the closing at the restaurant. But all social media posts say it is temporarily closed. There's no evidence that equipment has been moved out of the restaurant.
When I emailed Panda Express I got this unsatisfying response: "Our team is always looking for innovative ways to better serve our guests. We appreciate the time you have taken to inform us of your concern and will look into the matter."