Tom's #Mailbag, Sept. 25, 2020
Submit your very own questions by clicking here
More questions about voting this fall, including the proposal to shift Illinois from a flat to a graduated income tax. Also outdoor dining, expungements, Halloween trick or treating, Champaign high schools' progress, Urbana sunflowers, Daylight Saving Time, lights-out over an interstate bridge, the county treasurer's office and the best sledding hill in Champaign-Urbana.
Trick or treating
"Has anything been posted about local, C-U trick or treating? We need to know whether to buy candy or not."
Urbana Mayor Diane Marlin said today it's a question she hears a lot.
"We've asked C-U Public Health District/IDPH/DCEO for Halloween guidance. CU Public Health District will let us know as soon as they receive guidelines and we'll share that guidance with the public on how to celebrate the holiday safely," she said. "We do know that some activities definitely will not be allowed: Large parties or gatherings and haunted houses and similar 'haunts.'
"All of the basic public health protocols will be in effect regardless: Physical distancing, face coverings that cover the nose and mouth, frequent hand washing, parties at private residents limited to maximum of 10 persons in addition to the household residents.
"And, get your flu shots!"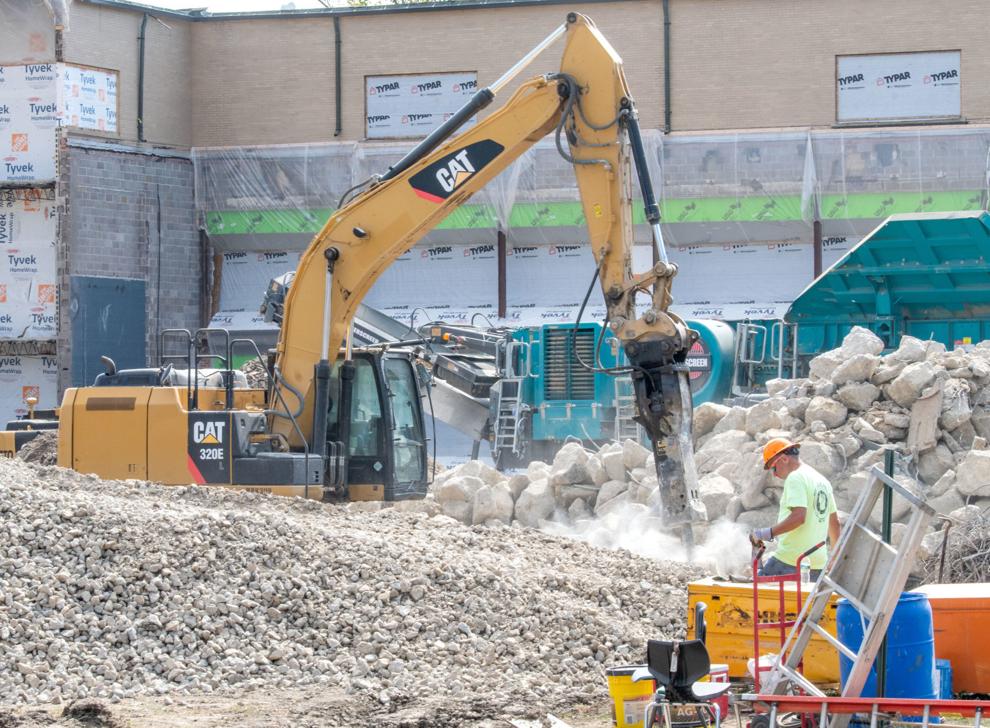 Champaign high school construction
"It would seem that with kids enrolled in online learning since last March, construction at Centennial and Central has been able to proceed without the limitations that a regular school day would cause. Is there any word that these schools will be finished significantly ahead of schedule?"
Champaign's building projects team said that construction at the high schools won't be completed ahead of time.
"While distance learning has offered a bit more leeway than originally anticipated, there are still several limitations that will not allow for the schools to be finished ahead of schedule," the projects team responded in an email.
"In addition to some material and labor delays based on various COVID-19 restrictions and disruptions, teachers are working in the schools during distance learning. As a result, construction activities need to work around the school day schedule similar to how they would when students are in the building.
"Without knowing what the future holds, the district is unable to commit to expediting future renovations at this time."
Firefighter meals
"I see a fire engine and several firemen shopping almost daily at the Champaign Meijer. Can you find out the per diem they are allowed for food? I'm just curious how it works. I realize they work extended hours, just wondering the amount they are allocated for food daily."
Champaign firefighters are not given a per diem for food, said Fire Chief Gary Ludwig.
"All food that they eat during their 24-hour shift is solely paid for by the firefighters. Each day, the firefighters pool their money and shop for their food for that day," he said. "While shopping they are in-service, in their response area, and are available to respond to calls."
Interstate vegetation management
"How often does IDOT trim trees on side of the interstate? I noticed last week that trees are almost completely covering the sign on I-57 northbound signifying the U of I and Parkland exit that is right over Springfield Avenue. Anyone not from the area probably won't see it."
"We do vegetation control as time allows throughout the year," said IDOT Region 3 Engineer Kensil Garnett. "Often this occurs over the winter for two reasons:
"1. We have more staff on board that can help. 2. Between October and March the endangered Indiana bat is not roosting in trees so we can safely remove them.
"The vegetation in front of the sign in question has been a problem for a while. It is on a very steep slope behind the guardrail. This makes it difficult for our staff to safely address. It has gotten to the point where we need to figure it out. Our supervisors will be evaluating the best course of action and if we will need any special equipment to remove the vegetation."
Vote by mail mailer
"How is it that the same Illinois Secretary of State's office, which hasn't had the time, money or bandwidth to replace my 15-year-old license plates in a timely manner, apparently does have the time, money and bandwidth to send a letter via first class mail to every voter in the state to remind them of voting by mail? This was done even though many voters have already been notified once through the mail by their local officials. This is a fine way to spend money, by a state that is billions in debt."
Henry Haupt, a spokesman for Illinois Secretary of State Jesse White, said the office was mandated by state law to mail out the letters.
"Pursuant to state law (10 ILCS 5/2B-30), the Secretary of State's office was required to mail the letters using the list of names provided by the Illinois State Board of Elections," said Haupt. "The Illinois State Board of Elections received this list of names from each of the county clerks' offices. By law, we were required to send the letter no later than Sept. 15, 2020, to any voter who received an application from a county clerk's office to vote by mail, but who had not yet returned that application to the county clerk by a certain date. (A reminder notice from the Illinois State Board of Elections was sent to all of the county clerks' offices on June 30 with details regarding this mailing.)
"The Secretary of State's office is also required by state law to send another letter no later than Oct 15, 2020 to those voters who still have not responded to their local election authority. The Illinois State Board of Elections will supply our office with that mailing list as well."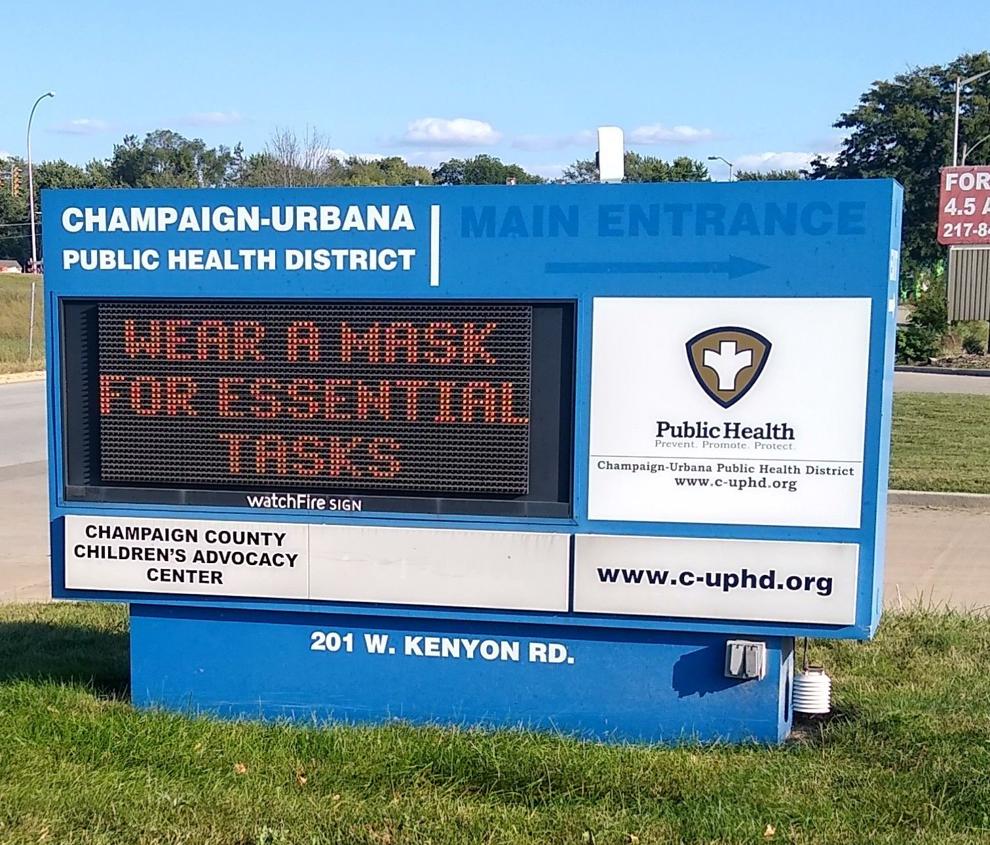 Public health departments
"Does Champaign-Urbana Public Health District (CUPHD) cover all of Champaign County or is there a separate one for areas outside the Champaign/Urbana/Savoy/Mahomet areas but within Champaign County? I always assumed it covered all of Champaign County, but that's not really what its name says."
Julie Pryde, who is administrator of both the Champaign-Urbana Public Health District and the Champaign County Public Health Department, explains:
"Champaign-Urbana Public Health District (CUPHD), which was created in 1937, serves the people living in Cunningham Township (Urbana) and the City of Champaign Township. It is funded, in part, by property taxes on property owners in Champaign and Urbana.
"The Champaign County Public Health Department, was created in 1996 and started operating in 1998. It levies taxes from the residents in the remainder of the county, outside of Champaign and Urbana.
"The Champaign County Public Health Department functions through an intergovernmental agreement with Champaign-Urbana Public Health District. This allows CUPHD to provide public health services throughout the county.
"The County Board of Health 'purchases' the core public health services of safe food, private water systems, safe septic systems, and communicable disease prevention and mitigation. CUPHD also provides additional services to county residents through numerous grants and contracts that are county or region wide, such as WIC, family planning, and immunizations. The most noticeable service that CUPHD provides only to Champaign and Urbana residents is in our child dental program. As this is a very expensive program that requires tax dollars to supplement operations, we cannot provide the services to children outside of C-U. Those children can be served through Smile Healthy at Promise Healthcare."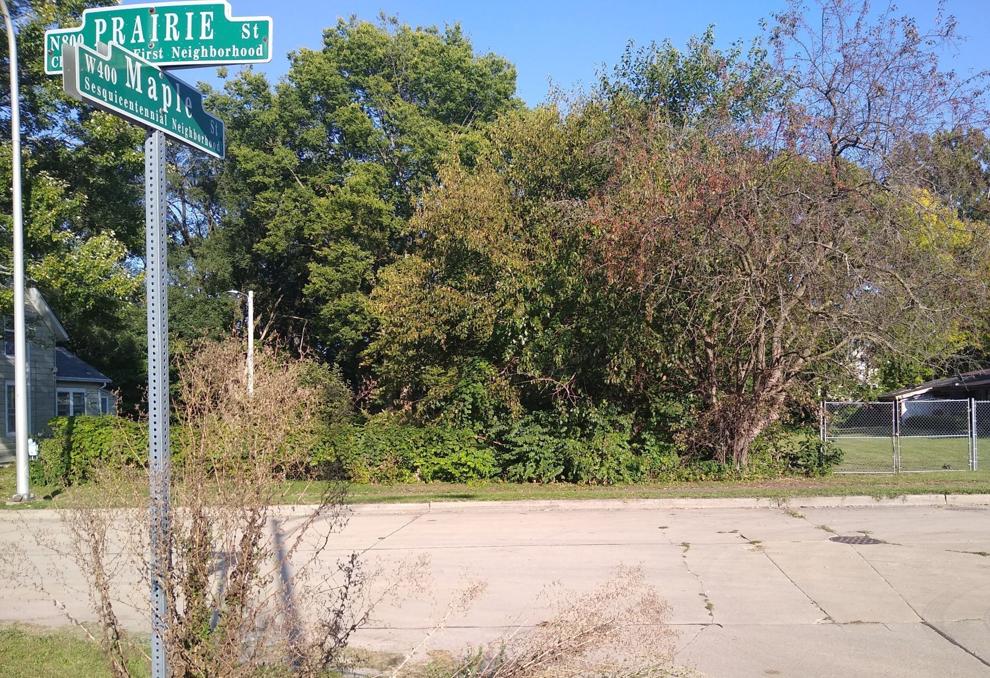 Wandering Maple Street
"I was wondering if you could tell us the reason for West Maple Street in Champaign's weird layout. It starts at McKinley, moves east to Prospect, then jogs north about a hundred feet, stops at Spalding Park, picks up again, then jogs back south a hundred feet again, and swerves a fair bit between Randolph and Neil. Some streets north of the railroad tracks, such as West Eureka Street, are similar. What's the deal?"
No one knows for certain but Champaign city planner T.J. Blakeman, who also is president of the board of the Champaign County Historical Museum, offers this theory: "I would guess it was simply an effort to form full city blocks instead of half blocks due to the interference with the train tracks.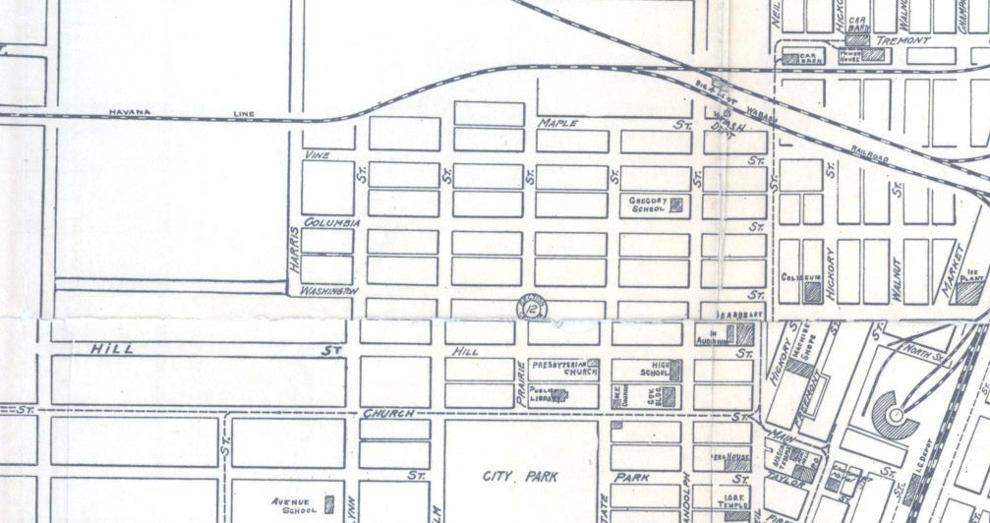 "This map is from 1906 and shows how Maple was causing the issue of half blocks east of Prairie. It seems the logical step was to jog north in order to maximize the street frontage and create whole blocks."
Can't vote both ways
"Due to Covid-19, I've applied for the vote-by-mail ballot for the upcoming election. And I've been wondering if that means I no longer have the option of voting in person for this election."
Champaign County Clerk Aaron Ammons said that applying for a vote by mail ballot and/or receiving an actual ballot in the mail does not obligate any voter to vote by mail.
"The voter can still vote in person," he said. "Take your vote by mail ballot with you to your polling place, surrender it to the Election Judge, and they will issue you a new ballot.
"However, we do encourage you to use your vote by mail ballot. It is safer for everyone. If you're not comfortable mailing it back, you can use a drop box."
Ammons said that your question is a common one and is included among other frequently asked questions at this location on his office's website.
Daylight Saving change?
"Will Illinois return to Central Standard Time on Nov. 1? Last fall there was talk of staying on Daylight Time year round, but I can't seem to find anything definite."
The change proposed in the Legislature by Sen. Andy Manar, a Bunker Hill Democrat, mandated "that daylight saving time shall be the year-round standard time of the entire State." It is contained in Senate Bill 533.
The measure passed the Senate, 44-2, in November 2019. But it never got a vote in the House, partly because the coronavirus outbreak limited activity in that chamber this year. The legislation is still alive until this legislative session ends in January.
Darkened bridge lights
"One of the nicest sights on Interstate 57 is the Curtis Road bridge with the masonry and U of I logo. Coming home seeing the bridge lit up was always something I enjoyed seeing. Over the past 6 to 12 months the lights that lit up the bridge have slowly gone out, and last week driving past there were no working lights. Is there any plan to replace the lights?"
A photocell was missing and was replaced on Thursday, said Champaign Public Works spokesman Kris Koester.
The lights should be glowing once again.
Work stoppage
"A few weeks ago there was a lot of work being done just north of the intersection of West Maple Street and North Prairie Street, just across the railroad tracks. Excavators cleared out a lot of trees and dirt and a bunch of dump trucks were moving waste. Then a notice to cease all work was posted, everything stopped, and the construction equipment all disappeared. What's going on there?"
"The property owner was doing some work at this location without a permit," said Koester. "The city of Champaign issued a stop work order. The owner is now working with the zoning administrator to determine allowable use for the property."
Outdoor dining in colder months
"I've heard that Chicago is going to allow outdoor seating with heat (heated tents, etc) in the winter months for the restaurants to help them survive with all the restrictions. Does Champaign have any plans for our restaurants during the winter months?"
Champaign Mayor Deb Feinen responds: "Thank you for your interest in the success of our local small businesses. The city continues to support the curbside pick-up program in Downtown and Campustown as many businesses have pointed to this as a critical piece of their existing revenue and this will continue into the fall and winter. We are also working with partners such as the Center City Partnership, EDC, Chamber of Commerce and city of Urbana to better understand the needs of the restaurants/bars and the desires of patrons as our weather gets cooler.
"In particular, the Chamber is working with a local restaurant supply company to look at ways of possibly helping businesses bulk purchase equipment they would need such as heaters to extend the outdoor season. In addition, city staff has been talking to CCP about promotion and giveaway opportunities for the fall. Champaign staff and our local businesses did an amazing job of pivoting this spring and providing innovative opportunities for outside dining. I know that our business community will find new and creative ways to adjust as we enter fall and winter and that we will work hard at the city to help them adapt.
"I encourage people who are able to continue to patronize these establishments regularly, they are so very important to our local economy and provide many jobs."
Business writer Ben Zigterman has more in Weekend Extra.
Expungement privacy
"I see where they are doing the expungement virtually this year over Facebook. How will privacy work with all the tracking done and information being sold through them? The purpose of expungement is to get a fresh start and I don't feel comfortable referring people if it's just more widespread exposure of their histories, especially juveniles."
"Great question!" said Champaign County Circuit Clerk Katie Blakeman, who is overseeing the virtual expungement program that will feature an online presentation and panel discussion on Oct. 17.
"While the education and forum part of this year's Expungement and Record Sealing Summit will be livestreamed to Facebook, the individual counseling sessions will be private and confidential," she said. "Participants will be invited to watch the forum through individual invitations, but it will be broadcast to a larger audience so that anyone interested can learn more about the process.
"Registration takes place directly through our legal aid partner's secure case management system, and all legal volunteers sign confidentiality agreements. Eligibility determination and petition preparation will take place outside of virtual sessions, and participants will meet individually with volunteer attorneys via Zoom or telephone conference."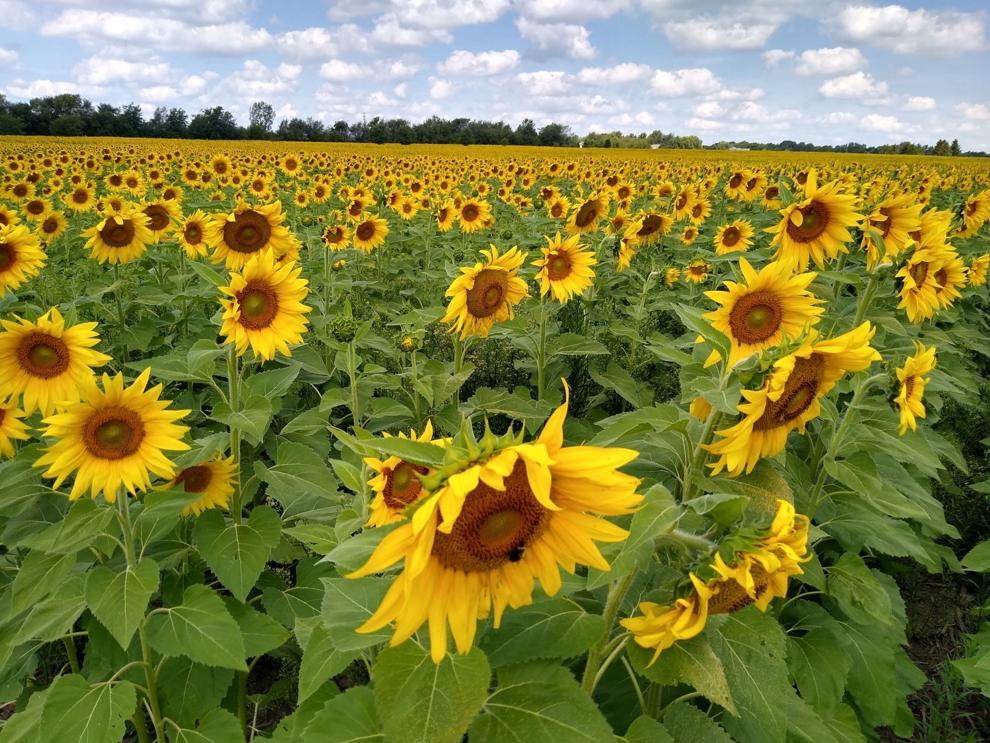 Sunflowers redux?
"What is the fate of the beautiful sunflower field on Stone Creek Boulevard? Second, will it be back next year?"
"Their fate is still to be determined. I am still not sure they are going to mature enough to harvest," said Jim Goss, the director of farm management for the Atkins Group, which still owns the property but is in the process of transferring it to the University of Illinois.
"They won't be back in that location next year unless the new owner plant them. Atkins will not control it next crop season," said Goss.
Early voting hours
"I live in Urbana. Can you tell me when and where early voting times are? And if I vote in other than my usual polling place, what sort of ID will I need to bring?"
Early voting, as you probably know, began Thursday and will continue through Monday, Nov. 2. You can vote at the Brookens Center gymnasium, 1776 E. Washington St., Urbana, between 8:30 a.m. and 4:30 p.m. any weekday, and on Saturdays and Sundays starting Oct. 24 from 9 a.m. to 5 p.m.
Several other satellite early voting sites will open Oct. 19. All the details are available here.
As for needing an ID, here's what the county clerk's website says: "If you are a first-time voter or need to change any of your voting information, it's best to take a picture ID and a piece of mail with your current address. Voter registration cards are not needed to vote."
County treasurer's office costs
"Can you give us an update on the Champaign County Treasurer's office and how much extra it is costing the taxpayers? The problems have been going on for almost two years now and it seems like it is only getting worse. Where do we stand now cost-wise?
Champaign County Auditor George Danos said the additional costs over two years amounts to more than $40,000.
"The treasurer's expenditure for personnel increased by $17,828 from 2018 to 2019 (actuals). The 2020 estimated budget is a decrease of $1,501 from the 2019 actuals," said Danos. "However, this latter decrease does not incorporate my assumption of what used to be the treasurer's duty to perform bank reconciliations. The value of that work is $8,000 and it will come from my Auditor's budget. Thus, 2020 really represents a further increase of about $6,500.
"So, the total additional personnel expense over two years is about $42,000."
Taxing retirement income
"Does the proposed tax amendment allow the state to tax retirement income, or would that require a different amendment?"
No, the proposed Fair Tax Amendment has nothing to do with taxing retirement income.
That's part of a misleading television commercial featuring an elderly Park Ridge woman who laments that the amendment "would give (politicians) new powers, powers to increase income taxes on anyone, including retirees."
That's not what the amendment is about. And politicians already have the power to raise taxes on anyone, including retirees.
The commercial is sponsored by the Coalition to Stop the Proposed Tax Hike Amendment. Its biggest supporter is Illinois' richest person, Ken Griffin, who gave the group $20 million. Another major supporter is Muneer Satter, manager of a Chicago investment firm, who gave $100,000.
And no, extending the income tax to retiree benefits would not require a constitutional amendment, said Ralph Martire of the Center for Tax and Budget Accountability, only passage by the Legislature. And the Legislature can tax retiree benefits any time it would want to.
How the flat income tax won
"What were the 1970 arguments to the people in favor of adopting the current Illinois Constitution authorizing a flat rate income tax? I can only imagine that it was billed as the fair tax then. How did a flat rate win out over a more progressive rate structure during the Convention discussions?"
It's amazing how little it was discussed. For example, a six-part series on the proposed Constitution, which ran in the News-Gazette almost 50 years ago — in October 1970 — barely mentioned the difference between a flat income tax and a graduated tax.
That's because a year earlier, in 1969, the Legislature passed a flat income tax that few had expected to be found constitutional under the existing 1870 Constitution. But it was.
(A proposed new Constitution was offered to voters in 1922. It included a graduated income tax but the entire Constitution was rejected by voters. In 1932, during the Depression, a graduated income tax with six separate brackets was approved by the Legislature but struck down as unconstitutional by the Illinois Supreme Court, leading the Legislature to be gun-shy about any attempt to pass an income tax).
That's what made the 1969 income tax approval such a surprise.
It had been pushed by Republican Gov. Richard Ogilvie, passed mostly by Democrats and it included a 2.5 percent rate on all individuals and a 4 percent rate on corporations.
In the meantime another constitutional convention began in December 1969, which resulted in the 1970 Constitution. According to authors Joyce Fishbane and Glenn Fisher, delegates to the constitutional convention didn't want to move away from a flat income tax one year after it had been adopted.
"To allow a graduated tax would have been a move away from the status quo — a move the delegates were not willing to make," said Fishbane and Fisher whose book was titled, "Politics of the Purse: Revenue and Finance in the Sixth Illinois Constitutional Convention."
Education and labor groups supported a graduated tax but didn't push hard, the authors said. And most Republicans contended that voters would not accept a Constitution that had a graduated income tax.
Bloomington delegate David Davis IV, whose great grandfather had been Abraham Lincoln's campaign manager and was rewarded with a seat on the U.S. Supreme Court, argued that a graduated income tax would be "absolutely repugnant" to the people in his central Illinois district.
So with no willingness to argue a new version of the state income tax a year after the first one was adopted, delegates took the easy way and stayed with the familiar.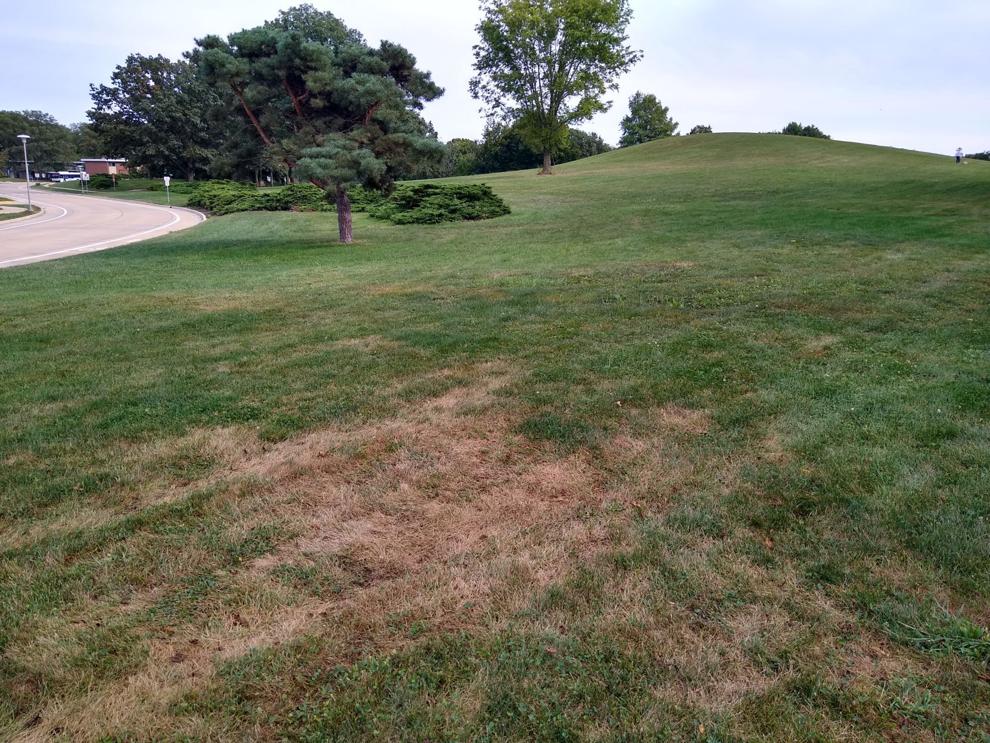 Hackberry Hill
"There is a hill near Orchard Downs that is popular for sledding and running. It looks to be manmade. How did that hill get there? What is its history?"
It is with great sadness that I wave the white flag on this question. I have always been under the impression that Hackberry Hill, as it is known, was built with dirt excavated from the construction of the Assembly Hall about 60 years ago. But I can't find any source at either the University of Illinois Archives, old newspapers or the UI Facilities & Services to confirm that. So it's a mystery until someone steps up to verify or knock down my recollection.
I-57 roadwork
"What is going on on I-57 south of Paxton to the county line?"
The Illinois Department of Transportation website says it is "lane restrictions for roadway improvement" between mile markers 257 and 263. (The Paxton exit is mile marker 261). The road work is expected to conclude by Oct. 5.